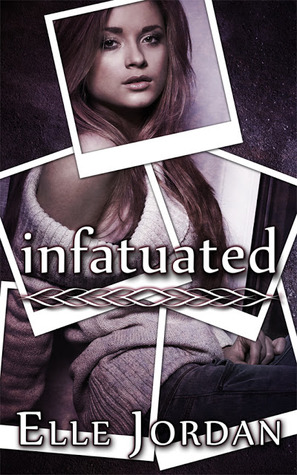 When I took a job as a bartender at Hanson's to help pay for my classes, the last thing I expected to find was Kale Wilder. He's sexy, smart, and he makes me smile and laugh faster than anyone ever has. More importantly, he makes me believe in Mr. Right.
But Kale came to the wrong place at the wrong time, because someone else has his eyes on me. Someone who watches my every move.
Kale's the only one I want, but the more I feel for him, the more I fear for my safety. Because the other guy is getting closer and doesn't want to share. He's made it clear if he can't have me, no one can.
Kindle Edition, 225 pages
Published October 12th 2013 by EJ Books
Review copy provided by NetGalley
OUR REVIEW:
As you've read in the synopsis, Ally is a bartender who is being stalked. She's new to this small town...trying to do the going away to college thing; trying to learn how to be independent and figure things out for herself. Unfortunately, since she's new to this college town, she has a very small support system and it's hard for her to feel protected and safe from the weirdo who won't leave her alone. As the creepiness of the weirdo starts to escalate, Kale enters her life and immediately begins to try to keep her safe. He dotes on her and distracts her from her anxiety and does so many sweet things to help her in the increasingly scary and unsafe situation.
It is clear right away what is going on with Ally. And I was, well, I think we both were incredibly skeeved out...and thinking about the actual ramifications of "Wow. What if that happened to us or someone we knew?" Ally is working hard to make it on her own, and it is also clear from the beginning that she isn't going to get much help from her friends with the instinct she feels in her gut that this guy is being inappropriate.
Because of the stress and tension of the stalker situation, Ally and Kale's relationship doesn't always go as easily or smoothly as maybe it could have. There are lots of questions and doubts about intentions and feelings and some definite ups and downs between them and all of the things they are trying to handle.
But gah, he did and said all of the right things from the get go. He was a great addition to the story as a would be bad boy, who really has a good heart...even if not always the best execution or understanding of his feelings. He was the cause of more than one pull of my heart strings, y'all.

One of the things that I felt really worked in this novel was the stress and fear that Ally felt. Elle Jordan really built up the tension, amped up the increasing psychopathic acts of the stalker and made Ally's plight believable. Her fear, anger, and actions all made sense and I found myself really feeling for her.
I completely agree. We were wondering the whole time. What is going to happen? What is this guy going to do? When is he going to do it? It was hard being the type of reader who NEVER reads ahead to find out will happen. I never have a strong desire to do so, and my fingers were itching here. The suspense and psychological aspect of this type of story....gah...killer.

I also thought there were spots that were great tension relievers...Kale could be absolutely silly and ridiculous. He was. Self deprecation looks good on this boy. Always fishing for compliments!

The things that perhaps could've been improved? Sometimes the dialogue was too rushed for my taste..and I felt like I needed more exposition between some of Ally and Kale's lines. I also would've liked a little more information about Ally and Kale and their back stories...and the stalker, for that matter. But even with those imperfections, I found myself engaged and wanting to know what was going to happen. Right. We simply needed a bit more of a few things. I have a few questions still, that I hoped would be answered very much. Though like Shel said...the story was engaging, the characters made me root for them, and want to strangle them sometimes...and the pace was fairly spot on. I liked it.

Shelley: 3 1/2 stars
Courtney: 3 1/2 stars
About the Author
USA Today Bestselling Author. Elle Jordan is the mastermind behind all kinds of things that need masterminds. …okay, not really, but she IS the mastermind behind…something. Her name, maybe.
Elle lives in the south, about an hour from the Happiest Place on Earth (aka Disney), drinks enough Mtn. Dew to keep the company in business, and has four lovable (read: evil and conniving) pets. She's also the secret, evil alter-ego of another name. She'd tell you that other name, but then it wouldn't be a secret.
When she isn't writing, she can usually be found on Facebook, Twitter, or with Photoshop open, making covers for books she doesn't have enough time to write.