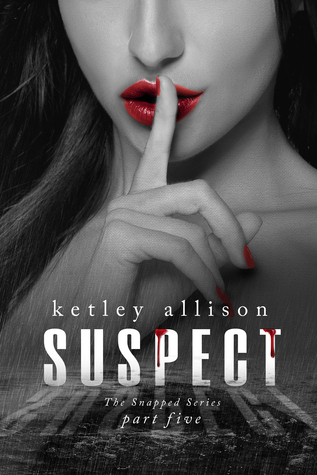 "I saw it in his eyes." I crossed my arms. "They're going after me. I seriously think I'm their top suspect. Didn't you see the way they looked at me just now? And the questions. It's because of the fight. I should've called the police!" Fingers tangled in my hair, I strode back and forth. "Why didn't I press charges when I could? How could I have listened to you over something like that? And who in God's name killed? Because it wasn't me!" I smashed my pointer finger into my chest. "It wasn't me!"
The police have their prime suspect. More importantly, they have motive.
SACRED had you reeling, but SUSPECT will have you desperate to figure out the ultimate truth.
Kindle Edition, 100 pages
Published February 1st 2015 by Ketley Allison LLC
Source: Author
Add to Goodreads
|
Purchase on Amazon
Shel: We knew from the very beginning that someone was murdered and in the last book we found out who. Today, I found out a little bit more about how she was murdered but guess what I didn't find out? GUESS!!!!
Court: Who dun it. Gah!
Shel: Yep, you guessed it, I have NO FREAKING CLUE WHO DID IT.
Court: There's TWO installments left Shel! WE can't know that yet. Damn it.
Shel: KETLEY ALLISON. YOU COME HERE RIGHT NOW.
Court: Yeah!
Shel: I NEED ANSWERS.
Court: We need you. We want you. Oh, baby, oh baby.
Shel: QUIT HOLDING OUT ON ME.
Court: That would actually be quite nice! Girl can write the heck out of romantic suspense.
Shel: While I'm waiting on Ketley to tell me ALL OF THE THINGS...here's a little bit more you need to know: everyone is a freaking suspect and a few seem more suspect than others...and just when I think I know what direction Ketley has me going in, she switches it all up. So while I can speculate, no one is safe from Ketley's evil genius--it's emotional whiplash. Court: I KNOW! I have questioned the sanity, motives, and just plain what the fucking fuck out of every character we have met. I know who I want to have done it. But, fuck me...there are going to be details that come out sooner or later that are going to break me. Break. Me. Shit.
Shel: ..and thank god Ketley wrote in a killer lawyer for Charlie because if not, she'd be screwed. Lou is fierce and bad ass and I cannot wait to see how she takes everyone down: Shel: She is definitely a pit bull...and I love when she takes out the stupid men who are trying to get this poor girl to admit things she shouldn't! Assholes!
Shel: In conclusion to this gif-y review, know that I need the last of these books, Ketley. For all that is holy, please hit publish soon! Court: Yes. I am so excited about the characters, even when they hurt me, the writing-even when it hurts me...and I am so excited to read the next installment!
Snapped - Part I
Shade - Part II
Sin - Part III
Shade - Part IV
About Ketley Allison
Ketley Allison began her creative career by writing books as birthday presents for her friends (with her friend as the main character and opposite a super sexy lead, of course) before ending it in order to walk down a path she thought she was supposed to follow.

The writing bug never left her—and, in fact, would often bleed into the official papers she was supposed to write—so now Ketley's putting down her suit and finally following her dream. While her friends are no longer the stars of her books, she still throws in bits and pieces of them into each and every one of her characters.

As a result, her books tend to focus a lot on friendships as well as love, because let's be honest, friends are what really get you through—especially when your epic love turns into epic heartbreak.