About BURYING WATER: The top-selling, beloved indie author of Ten Tiny Breathsreturns with a new romance about a young woman who loses her memory—and the man who knows that the only way to protect her is to stay away. Left for dead in the fields of rural Oregon, a young woman defies all odds and survives—but she awakens with no idea who she is, or what happened to her. Refusing to answer to "Jane Doe" for another day, the woman renames herself "Water" for the tiny, hidden marking on her body—the only clue to her past. Taken in by old Ginny Fitzgerald, a crotchety but kind lady living on a nearby horse farm, Water slowly begins building a new life. But as she attempts to piece together the fleeting slivers of her memory, more questions emerge: Who is the next-door neighbor, quietly toiling under the hood of his Barracuda? Why won't Ginny let him step foot on her property? And why does Water feel she recognizes him? Twenty-four-year-old Jesse Welles doesn't know how long it will be before Water gets her memory back. For her sake, Jesse hopes the answer is never. He knows that she'll stay so much safer—and happier—that way. And that's why, as hard as it is, he needs to keep his distance. Because getting too close could flood her with realities better left buried. The trouble is, water always seems to find its way to the surface.
Paperback, 368 pages
Published October 7th 2014 by Atria
Source: Netgalley
Purchase: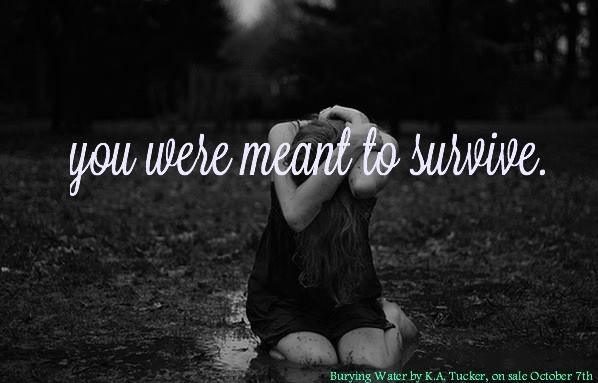 OUR REVIEW:
It's fairly well established that we love K.A. Tucker and when we had the opportunity to read the first book in a new series, we took it..no questions asked. Trust me--this first book in the new series is definitely worth your attention.
Hells to the yes. Can we have your attention please? Okay. Go on.
The first pages will break your heart, set the tone, and make you very curious about how all of this will work. Why? Because you basically get very close to the ending of the novel, right at the beginning. You learn, quickly, how Water ends up where she is. So why read the rest of the story? Because. Because there's so much story to tell and it's different than what you've read before from K.A. Tucker.
Agreed. I feel that the dynamic of the story was refreshing in that it wasn't this big melodramatic reveal. We get the grit, and the grime, and the awfulness right up front. Then we slowly find out how things might've lead to this beginning, while also finding out where we go from here. I really loved the way this story is told. A lot.
In alternating chapters (usually), you get the current story of Water and her struggles to live in her 'new' life and adjusting to not knowing her past AND you also get her past life from the POV of Jesse. And damn, what a story. I was drawn into it immediately and found that I really wanted to know how Water ended up in her predicament while at the same time I didn't. I just knew ... KNEW...it was going to be painful..it was going to hurt to find out why she didn't remember her past. So because I pussed out, many times, and put my book down out of sheer nerves, it took me longer than it should've to find out the ending of this story. Take my advice here: the ending isn't nearly as painful as I thought it would be. Promise.
I knooowwwww. You really have to get in this one, and find out how things are going to be. There are small hurts that Water has to figure out how she feels about it. How would it be to literally block out your entire life? I cannot even imagine how the human brain has this special defense mechanism, and of course, we as humans just have to poke and prod it to try to find out the how's and why's of every damn thing. This is another one for the existentialist in me that has to ponder the human condition allll of the time. Priorities definitely change when someone goes through the things that Water does. I really enjoyed the psychological component here.
I definitely think this is a book worth reading. Between the great secondary characters, the way the plot unravels, and the love story of Jesse and Water I think it's something a little different than the norm. My understanding is that this is the beginning of a new series and there are definitely some very interesting characters that need exploring; I can't wait to see which character gets the next story.
I find that K.A. Tucker has a serious knack for writing a well rounded series, a well rounded companion novel, and just a kick ass heroine no matter what form they come in. I loved the nuances of a trope that usually makes me nervous as all get out, and how it came to be something I hadn't expected. Bravo.
Shelley: 4 1/2 stars
Courtney: 5 stars
About K.A. Tucker:
Born in small-town Ontario, K.A. Tucker published her first book at the age of six with the help of her elementary school librarian and a box of crayons. She is a voracious reader, and currently resides in a quaint town outside of Toronto with her husband, two beautiful girls, and an exhausting brood of four-legged creatures.