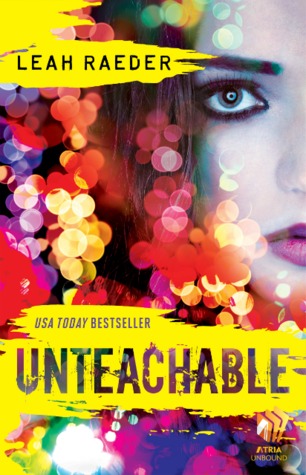 Maise O'Malley just turned eighteen, but she's felt like a grown-up her entire life. The summer before senior year, she has plans: get into a great film school, convince her mom to go into rehab, and absolutely do not, under any circumstances, screw up her own future.
But life has a way of throwing her plans into free-fall.
When Maise meets Evan at a carnival one night, their chemistry is immediate, intense, and short-lived. Which is exactly how she likes it: no strings. But afterward, she can't get Evan out of her head. He's taught her that a hookup can be something more. It can be an unexpected connection with someone who truly understands her. Someone who sees beyond her bravado to the scared but strong girl inside.
That someone turns out to be her new film class teacher, Mr. Evan Wilke.
Maise and Evan resolve to keep their hands off each other, but the attraction is too much to bear. Together, they're real and genuine; apart, they're just actors playing their parts for everyone else. And their masks are slipping. People start to notice. Rumors fly. When the truth comes to light in a shocking way, they may learn they were just playing parts for each other, too.
Smart, sexy, and provocative, Unteachable is about what happens when a love story goes off-script.
ebook, 320 pages
OUR REVIEW:
Shel: Look. I'm going to be honest here...I resisted reading this novel for a while. Why? Because. Because I'm a teacher and the idea of this somehow freaked me out a little. The idea of being attracted to one of my students, so much so that I'd break the 'code' (and in Louisiana, the law),and allow a relationship with one was a NO GO ZONE. And upon reflection, I suppose I need to think about this a little. What does this say about me? What does it say about society? About age + sex and what's acceptable and what's not? This is something I'm still pondering and wondering about..maybe for a future blog entry because I know what you're really wondering about is what I thought about this novel (not my philosophical views and questions).

Court: Hahaha. I think it is a topic that can be up for discussion in our review though, because truly it's about the vulnerable position a teacher has with their high school student, and the different experiences they each have. I know I was so much more immature at eighteen than I am now, but I also think that Maise makes it even more conflicting because of her own life experiences. She isn't just a teen setting out to seduce her teacher, no matter how cute. They shared quite an experience before he became her teacher, and THAT is what I had to remember...because that was quite the scene, and age definitely didn't matter.
After following Leah on twitter for months, admiring her from afar, and seeing the mad love her fans have for her, I decided to wedge this novel in between other reading obligations; I'm glad I did. Why? It did all of the things that memorable books do: it made me a little uncomfortable (see the above paragraph), it presented this idea in a way that was unique, it had these lines of prose that spoke to me, and it begged me to stop and think and question and think some more. Right? I actually read this originally back when it was indie published, and I enjoyed it very much. It surprised me. It still surprises me, because really it isn't just following the usual trope of a taboo romance, and that is definitely a good thing. There is a lot more "between the pages" (hah, how cliche am I) than you may bargain for, and it snuck up on me in the end.
It did ALL of those things and I'm failing miserably for all 2 of you who haven't read this novel to tell you why YOU should read it, I think. Sigh. Okay. Read it because Maise and Evan are deliciously fucked up. Read it because the secondary characters do questionable things that are infuriating and understandable and ughhh. Read it because of the slight melancholy that tinges every page, even on the sweetest of days for these characters --that melancholy?-- it stays, floats, lingers and I loved it. Read it because the ending is...well, you will see because you will read it, right? Right. The ending is, yeah. And I think melancholy is the perfect description, because it is one emotion that I know intimately. I'm good at it, so maybe we just are better able to recognize it when we see it. Along with it though is major anticipation...anticipation for how things will go badly, because they always, always do. Teenagers can't keep secrets that well when it comes to stuff like this (no offense, but that is my opinion), so it was in my mind the entire time how they would be found out, and what those consequences might be. How hard will we fall? The angst I felt over it, even barely starting the book, gave me palpitations!
Unteachable is not without its flaws--I could talk about little paragraphs here or there that didn't work for me or I could express my desire to know a little more about this or that--but honestly, it's what I'm still thinking about that far outweighs the tiny things I could nitpick. It's the questions it raises, the way my mind keeps going back to certain scenes as I try to visualize them, that aura of tension and ennui that latches onto me when I think about Maise, especially, but also Evan. It's all of this and more.

Yep. I tend to agree with this. My original thoughts, and they remain now, was that I wasn't as over the moon about the first half of the book as other people seemed to be. But you know what, that's ok!!! THEN, what might've been a meh, rating for me, turned out really really well, because the second half of the book was beautiful, and strong. So I recommend it highly, because it might be a slow burn for some people to be on board with this trope, but it gets there with writing that deserves the praise....just takes a minute or two.
I already knew I liked Leah because of what I've gleaned about her on social media (she's really awesome, y'all)...and this just is the cotton candy at the top of the roller coaster. I absolutely cannot wait for Black Iris and all of the things that will spill out of that beautiful brain of hers. Yep, we'll be waiting in line for that book too. :)