Originally released as a six part serial, this MC story is full of major sexy times, a heroine finding herself, and a lot of really hot alpha men. You totally wanna read this lovely escape! Check our review below! You can still get each part now, and the complete compilation will be releasing on March 18th!
Being kidnapped by bikers is a harrowing experience, but for some reason, Laurie doesn't feel as terrified as she should. The leader's steely eyes soften when he looks at her, and the others in his gang clearly know she's hands off. But does that include Steele's hands? Her brain resists him, but her body insists she wants those big hands all over her.
Steele doesn't know how he wound up in this mess–with a kidnapped woman on his hands and the police hot on their trail. Now he and Laurie are in hiding at an isolated cabin, and Steele has to figure out how to extricate himself . . . and steer clear of his accidental captive whose tight, slinky clubbing attire is making him think all kinds of dangerous thoughts…
Paperback, 288 pages
Expected publication: March 17th 2015 by St. Martin's Griffin
Court: So, I started this series in two parts, reading the first three and then reading the last three together...and each part is seriously an awesome display of sexuality in all forms, and a motorcycle club of badass men (and woman) who are just making their way in the world that they want to. It was refreshing and sexy, and the writing made it that much more enjoyable. I liked it a lot.
Shel: I'm just gonna put this out there...do with it what you will...this is word porn. There's a plot that involves Laurie (see Court's assessment below) and a gang of good guy bikers (and one in particular, Steele)...but really, I think many readers will find that the sexuality of this series is what will have them flipping the next page to read. And guess what? There's no shame in that at all.
Court: So, Laurie's brother is looking out for her, as brothers are wont to do...to get her away from this sadistic bastard of a boyfriend that she got under the thumb of. Then! She's kidnapped, and things go awry, and things get sexy and then they go awry again...and get sexier, and sexier and sexier...And Steele is definitely a great name for this big, badass biker. Whew. Hot tamales, y'all.
Court: Steele has a conflict of his own. He's wild and free in all things, and there is a lot of conflict in him to be what Laurie needs and be himself. Laurie and Steele have an insane amount of stuff to go through, both in life, and in sexual inhibitions...so that was an interesting. I really enjoyed this one, and definitely relish that it is an escape.
Shel: If you're looking for a quick series that is a more creative porn flick brought to the pages, this one will easily fill that need.
ebook, 35 pages
Published November 4th 2014 by St. Martin's Griffin
Source: Netgalley
ebook, 35 pages
Published November 4th 2014 by St. Martin's Griffin
Source: Netgalley
ebook, 35 pages
Published November 11th 2014 by St. Martin's Griffin
ebook, 42 pages
Published November 18th 2014 by St. Martin's Griffin
Source: Netgalley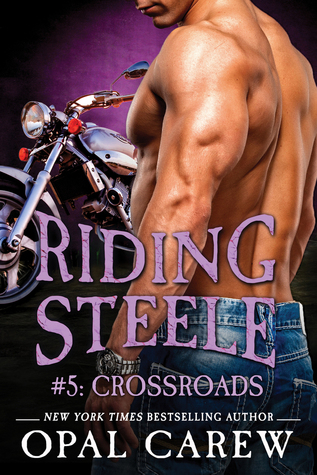 ebook, 45 pages
Published November 25th 2014 by St. Martin's Griffin
Source: Netgalley
ebook, 35 pages
Published December 2nd 2014 by St. Martin's Griffin
Source: Netgalley
Add to Author:
Opal Carew is the author of over a dozen romance stories in which she makes offerings of hope, success, and love to her readers. Opal loves crystals, dragons, feathers, cats, pink hair, the occult, Manga artwork, and all that glitters. She earned a degree in Mathematics from the University of Waterloo, and spent 15 years as a software analyst before turning to her passions as a writer. Opal lives with her husband and two teen-aged sons in Ontario, Canada