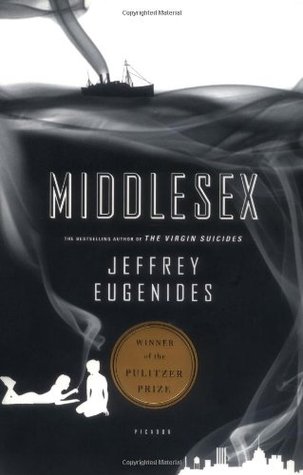 Buy it:
Middlesex: A Novel
"I was born twice: first, as a baby girl, on a remarkably smogless Detroit day of January 1960; and then again, as a teenage boy, in an emergency room near Petoskey, Michigan, in August of 1974... My birth certificate lists my name as Calliope Helen Stephanides. My most recent driver's license... records my first name simply as Cal."
So begins the breathtaking story of Calliope Stephanides and three generations of the Greek-American Stephanides family who travel from a tiny village overlooking Mount Olympus in Asia Minor to Prohibition-era Detroit, witnessing its glory days as the Motor City, and the race riots of 1967, before they move out to the tree-lined streets of suburban Grosse Pointe, Michigan. To understand why Calliope is not like other girls, she has to uncover a guilty family secret and the astonishing genetic history that turns Callie into Cal, one of the most audacious and wondrous narrators in contemporary fiction. Lyrical and thrilling,
Middlesex
is an exhilarating reinvention of the American epic.
This novel is good example of something I want more of...
Diversity in fiction.

I want more of it.
And I want it now.
I've been thinking about this a lot, lately. Actually, not just lately; I've thought about it with more intensity lately, but really?, I think I've always been disappointed in the lack of diversity in the novel world.
What am I talking about, exactly? Well, Court and I read a lot in the romance genre, but we'll read anything. Very rarely do we come across a novel that offers us a perspective from a person of color, or someone who is bi-sexual, and I cannot recall ever reading a novel with a lesbian couple. It's also rare that we read about a couple dating outside of their race. We do, however, come across a lot of stereotypes and flat, underdeveloped gay best friends or token ___ (fill in the blank here). As a matter of fact, I had to stop reading a novel today because it was so cliched and stereotyped that I just couldn't bring myself to like it.
So what exactly do I want? I want publishers and writers to give us some diversity. I'd like to read more about the world I live in; a world where people of color have romance and lesbians and bisexuals and transsexuals do too. I want to see more stories of people falling in love regardless of race or sexual orientation. I want good writing and good stories that span literary fiction to erotica.
I want diversity in fiction to be the norm so that reviewers don't feel like they even have to point out the race or sexual orientation because who the hell cares? People are people; it's how you treat people that matters--not what color your skin is or what you like to do in the bedroom.
I want the messed up, angst-riddled, crazy ass stories that we read to include more, to reflect more, of the world that we live in.
I want readers to demand it and buy it and promote it.
I want bloggers to review it and spotlight it.
I'd love to hear your thoughts on this and if you have recommendations, please send them our way. Maybe all of this is out there and we've been ignorant to the wonderful world of diversity in fiction. If so, educate us. And if you think I'm batshit crazy, tell me that too.
Happy reading, y'all.
Shelley