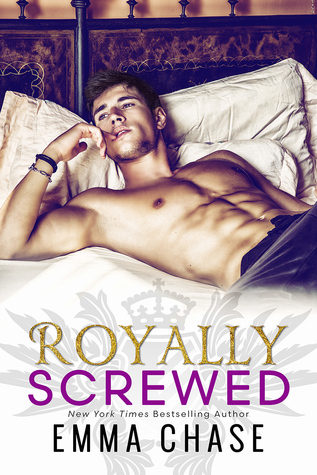 OUR REVIEW:
Shel: This novel is the ultimate modern day fairy tale--there's a prince, a woman running a business that's days away from foreclosure, some interesting family dynamics, and a few nefarious people in the mix. There's also laugh out loud scenes, hotter than hot chemistry, and a happy ever after that just makes your heart burst with happiness.
Royally Screwed
won't get you bogged down in serious stuff--it's truly a light read with only a few emotional pit stops on the way. If you haven't read this one yet and you're looking for a fun escape, grab this novel and be prepared to laugh and swoon in the fairy tale world Emma Chase has created. You'll read it in a day and be ready for the next one. In romance-landia this fun fantasy is a fantastic deviation from the dark, heavy broken hero or heroine. I highly recommend it and can tell you that the second book, Royally Matched is just as delightful.
Court: Oh my goodness, this book was amazing. It's everything Shelley has said. It's fun. It's free spirited. I even shed a few tears, can you believe it? (Shel can totally believe it!) There were some intense moments between the two of them, and some seriously insane bad choices on a couple people's parts but I really enjoyed every single page. This world is beautifully created, and Emma Chase does not disappoint on the humor. I love the prose. The characters. The supporting characters. I am SO GLAD there will be more of this set of people, because they're really good for my brain to be around. I need more, and luckily for all of you...the next book is coming out SOON! Have fun. Enjoy this book, because Emma's writing is 100% WORTH IT!
BUY IT: http://amzn.to/2kPw74A
Synopsis:
Nicholas Arthur Frederick Edward Pembrook, Crowned Prince of Wessco, aka His Royal Hotness, is wickedly charming, devastatingly handsome, and unabashedly arrogant; hard not to be when people are constantly bowing down to you.

Then, one snowy night in Manhattan, the prince meets a dark haired beauty who doesn't bow down. Instead, she throws a pie in his face.

Nicholas wants to find out if she tastes as good as her pie, and this heir apparent is used to getting what he wants.

Dating a prince isn't what waitress Olivia Hammond ever imagined it would be.

There's a disapproving queen, a wildly inappropriate spare heir, relentless paparazzi, and brutal public scrutiny. While they've traded in horse drawn carriages for Rolls Royces, and haven't chopped anyone's head off lately, the royals are far from accepting of this commoner.

But to Olivia, Nicholas is worth it.

Nicholas grew up with the whole world watching, and now Marriage Watch is in full force. In the end, Nicholas has to decide who he is and, more importantly, who he wants to be: a King... or the man who gets to love Olivia forever.
More info about the book and writer:
https://www.goodreads.com/book/show/29991719-royally-screwed?ac=1&from_search=true