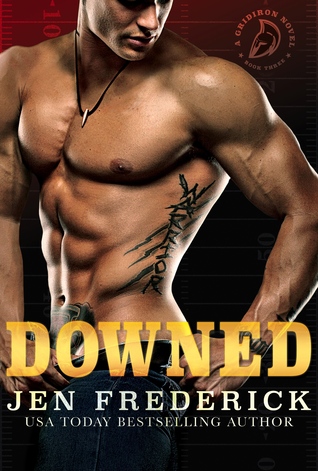 Y'all are you even kidding me right now?
Author: Jen Frederick
Subject Involves: Football
Setting: Southern U.S.
Characters: Asshole-ish Quarterback & Stubborn Southern Woman
Shel: ARE YOU KIDDING ME RIGHT NOW?!?! One click the ever-loving hell out of this RIGHT THE EFF NOW.
Court: I KNOW! Having not been caught up on this series, I am assuming that the most recent (and 2nd book) of this series has out friend Ace being an ace-hole..he he. So, if you're caught up..you already knew that, but luckily each one can be read as a stand alone!
Shel: We love Jen Frederick (and want to kick ourselves for being so behind in this series--something we're rectifying asafp) and we love her characters aaaaaannnnd we love football so reviewing this was an absolute no-brainer. Seriously. I think when Court and I saw Downed on our Kindles we both had a FAN-GIRL DOWN moment.
Court: She's right. That cover, tho...whew!
Shel: Alright, alriiiight enough obnoxious love, let's get down to it, shall we? Within the first few pages of Downed I was asking myself: What are *these* shenanigans?! What's going on here?! I was curious and giggly and wondering who/what/how about Bryant --kinda like Ace was (except I don't think he was giggling). And, unpopular opinion time (maybe), as the novel progressed I found myself warming up and liking Ace more and more and really feeling a bit mixed about Bryant. Let me start with Ace--he was always honest about who he was and who he wasn't and as he had those lightbulb moments, he shared them with Bryant. I also liked how he protected her and respected her and accepted her and never tried to alter who she was. Even at his most dickish, and he could definitely be a dick, I liked him. Bryant, on the other hand, felt more manipulative to me. Sure I understood her motives and it's not like she was truly deceptive (maybe evasive is more accurate), it was more of her lies to herself that made some of her choices questionable and made it harder for me to warm up to parts of her. Though, parts of Bryant were in my wheelhouse: all of the southernisms were so spot on (says the girl from south Louisiana), having a hard time saying no, and the easy relationship she had with her dad and the more complicated one she had with her mom were all things that I easily identified with. I also loved how hard working she was and how well she read everyone (except herself). Needless to say these characters kept me in engaged and curious and smiling the entire read.
Court: I don't think you have an unpopular opinion at all! I think that is the heart of why I told you before you started it that I felt this one was somewhat taking the trope of the football star/coach's daughter and flipping it on its head. I thought that with the way it began, and the way she was just so "right" in everything...not that she was necessarily mean about it...but we could tell that there was definitely going to be more to that so we kept our finger on it. And there was. I enjoyed that Jen makes these amazingly strong heroines, that still have a lot of self discovery to do. They're so on, on, on all of the time in their desperation to be perfect...and she was like that with her family history that you'll find out about. Ace. I really enjoyed him. I liked how he was, and definitely how he was when he realized that he could just not get this girl to leave him alone. She definitely blew in like a hurricane and changed a lot of things up inside him, but the core and important parts stayed all him.
Shel: I'd feel like a failure if I didn't mention how much I loved all of the locker room scenes, the hilarious scene with the van and Ace and their "plan" (her dad's reaction was the absolute best!), and the attention to detail (especially when it came to football) that made an already amazing read that much more fun. I suppose you don't have to enjoy football to love this book but it sure does help; truly, though, the heart of this novel is so much more than about field goals and touch downs and if that's not your scene but you love Jen Frederick, you'll find that you love Downed.
Court: YES, Yes, Yes! There was humor and heart on every page of this book. I loved it, and Shelley so kindly stated all the reasons why! Love her for that. I think even if you don't like football, Bryant's love for it might just make you look at it a little bit differently. We all have our "thing" and I loved that Bryant's was baking and making people feel wanted and loved. I wish that I had a little bit more of that in my personality (I do bake a lot! So there's that.) I recommend you read this immediately!
BUY IT: http://amzn.to/2fGflSp
SYNOPSIS:
He's the guy no one likes…
Despite winning two national championships, JR "Ace" Anderson was sent packing from his old school after losing the trust of his coach. At Southern U, he has a second chance to prove that his college legacy isn't endless debauchery and selfishness. But his reputation precedes him, and his teammates offer a chilly welcome in the locker room. The one person who is willing to accept him is the very woman he should stay away from—his new coach's daughter.
She's the girl everyone loves…
Bryant Johnson's only goal in life is to make others happy, even at her own expense. One look at her father's new star quarterback, and she knows that Ace is her next project. With a reputation for being a "jerk whisperer", Bryant has spent her last three years at college reforming sorry behavior and turning bad boys into the best boyfriends ever. In Ace, though, she's met with surly resistance and a sizzling attraction she doesn't expect. Fixing this wounded warrior will be her biggest challenge yet. Not falling for him will be even harder.
Between her big heart and his damaged one, a battle is ensuing. In this game of love, every defense will crumble.
More on Jen Frederick:
https://www.goodreads.com/author/show/6995972.Jen_Frederick