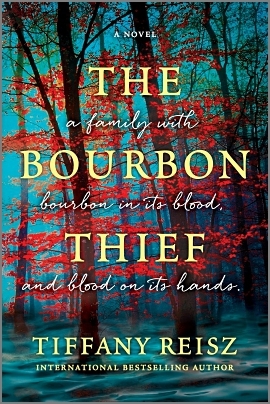 OUR REVIEW
Shel: If you're like me, then you 'know' Tiffany Reisz through her Original Sinners series. And maybe, if you're like me, you think you have an idea of what to expect in The Bourbon Thief which, to be fair, is very much a Tiffany Reisz book stylistically--it has her wit, is set up in the frame narrative she tends to use, and is excellently written, paced, and edited--but OHMYSHIT it is so much more than I expected. Court: I didn't know what to expect at all. I think that is what I most come to expect from Tiffany Reisz...expect the unexpected and enjoy the shit out of it. I am completely blown away by this book, and I just kept turning the page and could never quite get a handle on what might come next. Also know... this story has Tiffany's usual number of layers...which is a lot, and they each add so much life to the story that I am just covered in the essence of The Bourbon Thief and never want to wash it off.
Shel: The story of The Bourbon Theif is one that begins and ends with an evening when Paris (the thief) tells Cooper (the owner) a tale so rich and engrossing I couldn't get enough of it-- and I am still very disheartened that the story ended. It's a story of entitlement and desire and power and wealth and family and race and tradition and expectation ... and so much more. Primarily, though, it's the story Paris tells of Tamara and Levi and who they are, how they know each other, and how they ended up in the way that they did. I was so immersed in their convoluted love story, their history, the Maddox family history, the twists and the turns, and how all of the pieces and parts fit together that when it came time for it to end I felt incredibly satisfied and yet sad that I had no more pages to read. Court: I felt this book was complete, but I agree, I could've read a hundred more pages about them. I probably could've read a thousand more pages about them. The story is deep. The story will make you feel every single emotion you can name, and really make you feel each other those emotions for every single character that you will meet. No one is perfect. There are several antiheroes. But..I noticed they were all so brutally honest, and still found ways to keep deep dark secrets from each other.
Shel: I loved the historical elements, the sense of magic/insanity that seemed to exist in the background, the running commentary of race and womanhood in the south, the ideas of family and how those bonds can make us or break us, and last but not least, all of the illustrative details of the setting--as a southerner I easily identified the landscape, the heat, and the smells of the south. I am right there with you, Shel! You nailed it. And the bourbon in the blood, and the blood in the bourbon really came alive with these themes. There is such dark history in the south, and the stories are plentiful. This one had a great twist with liquor, and how it is made, and how those who make it will do anything to keep it...y'all...they be cray.
Shel: Reisz didn't just fill our hearts and minds with the wild and wonderful characters and their struggle to gain their freedom and to feel that deep comfort that comes when you feel a sense of belonging, she also filled our hearts and minds with a historical perspective that felt so real and detailed that it's hard to imagine that it's fiction. There is absolutely everything to love about The Bourbon Thief and it's whet my thirst to go back and read everything I've not read of Tiffany Reisz and has me thirsty for all of the things she's working on now. Court: Amen. I regretfully am so behind you Shel on the Original Sinners, but I liked how different this world was, and how rejuvenated reading something so rich and such beautiful prose, and how each sentence added so much to the story...a lot of thought went into this book and I am better for it. Give us more anything, Tiffany + Co
BUY IT:
http://amzn.to/28Xq1vq
SYNOPSIS:
From the internationally celebrated author of the Original Sinners series comes a brand-new tale of betrayal, revenge and a family scandal that bore a 150-year-old mystery
When Cooper McQueen wakes up from a night with a beautiful stranger, it's to discover he's been robbed. The only item stolen—a million-dollar bottle of bourbon. The thief, a mysterious woman named Paris, claims the bottle is rightfully hers. After all, the label itself says it's property of the Maddox family who owned and operated Red Thread Bourbon distillery since the last days of the Civil War until the company went out of business for reasons no one knows… No one except Paris.
In the small hours of a Louisville morning, Paris unspools the lurid tale of Tamara Maddox, heiress to the distillery that became an empire. But the family tree is rooted in tainted soil and has borne rotten fruit. Theirs is a legacy of wealth and power, but also of lies, secrets and sins of omission. The Maddoxes have bourbon in their blood—and blood in their bourbon. Why Paris wants the bottle of Red Thread remains a secret until the truth of her identity is at last revealed, and the century-old vengeance Tamara vowed against her family can finally be completed.
Find out more about Tiffany Reisz:
http://www.tiffanyreisz.com/