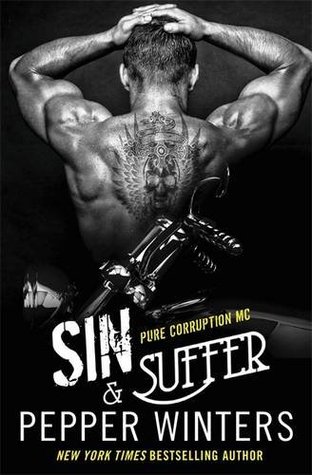 "Some say the past is in the past. That vengeance will hurt both innocent and guilty. I never believed those lies. Once my lust for revenge is sated, I'll say goodbye to hatred. I'll find a new beginning."

SIN & SUFFER

She came from a past Arthur "Kill" Killian never forgot. She made him sin and made him suffer. She tugged him from the shadows and showed him he wasn't as dead as he thought. And with her resurrection came betrayal, deceit, and war.

But then they took her. Stole her. Imprisoned her.

Now Kill's carefully laid plans for vengeance are complete. He craves action, retribution-the blood of his enemies. War has begun. War is all they'll know until they've paid their penance. He will get her back-and rewrite their destiny . . .
NOTE: In order for this novel to really give you the gut punch it should, you should read Ruin & Rule first.
As I was telling Courtney, this is novel is very much a "Pepper Winters" novel: sex, violence, feels, and good overtaking evil. As I'm thinking about what stands out for me, it's how unexpectedly good Kill was --it even took Cleo by surprise! Even when he was seeking retribution, it was 'good' (mostly)--I wasn't quite expecting Kill to seek his vengeance in all the ways that he did. I also didn't expect Cleo to be so gung ho into the club lifestyle--she had some thoughts about how things should be and it was interesting to see her observe and work through some of the new things Pure Corruption put in place.
Reading about the history of Cleo and Kill, the history of Pure Corruption and Wallstreet, and seeing how it all worked together made for an interesting, emotional, and action packed (and sexy) novel. If you're looking for a MC club novel that challenges what the typical person thinks about bikers + a love story that spans the lives of the two main characters, this is definitely the 2 book series for you!