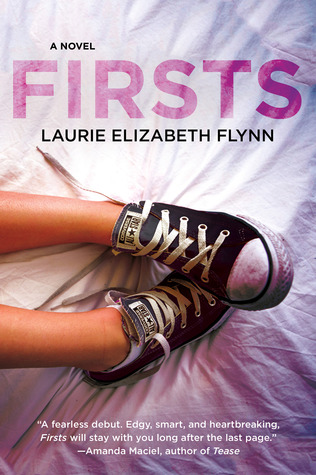 Seventeen-year-old Mercedes Ayres has an open-door policy when it comes to her bedroom, but only if the guy fulfills a specific criteria: he has to be a virgin. Mercedes lets the boys get their awkward, fumbling first times over with, and all she asks in return is that they give their girlfriends the perfect first time- the kind Mercedes never had herself.
Keeping what goes on in her bedroom a secret has been easy- so far. Her absentee mother isn't home nearly enough to know about Mercedes' extracurricular activities, and her uber-religious best friend, Angela, won't even say the word "sex" until she gets married. But Mercedes doesn't bank on Angela's boyfriend finding out about her services and wanting a turn- or on Zach, who likes her for who she is instead of what she can do in bed.
When Mercedes' perfect system falls apart, she has to find a way to salvage her reputation and figure out where her heart really belongs in the process. Funny, smart, and true-to-life, FIRSTS is a one-of-a-kind young adult novel about growing up.
I absolutely loved this novel. I enjoyed it so much that I almost don't want to write a review because I feel like I'm going to mess it up or, more likely, not be able to quite pinpoint all of the reasons I loved it (without rambling). It's probably a cop out to do what I'm about to do, but eff it..I'm doing it...here are just some of the reasons why I loved this novel:
Faye. I needed a Faye in my teen years. I needed that friend who'd hold my hand, stand by my side, help me out, and hold me accountable. I didn't really have that in one person...I had it in pieces of people, and I'm so glad that Flynn wrote Faye for Mercedes.
Zach. I won't go into detail here because spoilers are not nice, but I really adored this character and that's all I'll say.
Mercedes. I hurt for her and I understood her and I wanted to make things better. Her need to control things in her life, her lashing out at Kim, her desire to keep everyone at arms length--all of that resonated so deeply with my inner teen. I think I liked her so much not only because she was so well written but because I felt like I recognized bits and pieces of me in her.
Sex. Despite the amount of sex that was happening on/hovering over the page, it wasn't this erotic, salacious sex romp (not that that's bad...see most of what we read?) but it was sex for a purpose. What Mercedes was doing made sense as much as it didn't make sense and even though what she was doing wasn't wrong, the 'why' she was doing it was what made it hurt so much by the end.
Dealing. Mercedes had to 'deal' with a lot in this novel and it was when she didn't really know how to cope with certain emotions/events that things seemed to spin out of control. Truthfully, what happened when everything converged into one massive CF was where my love affair with Faye/Mercedes/Zach went up a whole 'nother level. I appreciate Laurie Flynn for not making things super easy for her characters and writing the ending the way that she did. I think many of us can relate to wanting to run from our fuck ups and I loved how Flynn wrote those hard scenes; they felt real.
Chemistry. I think I actually learned some chemistry. NO LIE. I love it when I feel smarter by the end of a reading.
I won't lie and say that I'm not hugely curious about what's happening now with Mercedes and Zack and Kim and Roy, which I hope you see is a testament to how completely immersed I was into this novel and these characters. I loved this novel and cannot wait to see what Laurie Elizabeth Flynn writes next.

Laurie Elizabeth Flynn writes contemporary fiction for young adults. Her debut, FIRSTS, will be published by Thomas Dunne Books/St Martin's Press in 2016.

Laurie went to school for Journalism, where the most important thing she learned was that she would rather write made-up stories than report the news. She also worked as a model, a job that took her overseas to Tokyo, Athens, and Paris.

Laurie now lives in London, Ontario with her husband Steve, who is very understanding when she would rather spend time with the people in her head. Laurie can mostly be found writing happily at her desk, with the world's most spoiled Chihuahua on her lap. Laurie drinks way too much coffee, snorts when she laughs, and times herself when she does crossword puzzles.

Laurie is represented by the amazing Kathleen Rushall of the Marsal Lyon Literary Agency.

FIND HER HERE: http://www.laurieelizabethflynn.com/