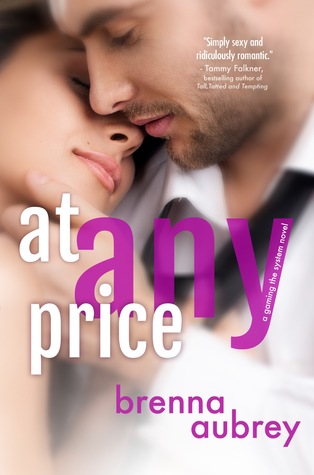 Achievement Unlocked: Geek Virgin
When Mia Strong, proud geek-girl and popular gaming blogger, auctions off her virginity online, she knows she'll make waves. But what she will not be making is a love connection. Her rules are set in stone: One night. No further contact.
It's a desperate step, but it's the only way she can go to medical school and pay her mother's mounting hospital bills.
Difficulty Level: Millionaire CEO
Adam Drake, the enigmatic auction winner, is a software prodigy who made his first million at seventeen. Now, in his mid-twenties, he's sexy, driven and--as CEO of his own gaming company--he's used to making the rules. Before Mia knows what's happening, he's found the loophole in the rules of her auction. Every stipulation she's made to protect her heart gets tossed by the wayside.
She can't tell if he's playing her...or if he's playing for keeps.
This New Adult book is intended for readers over the age of 18 due to adult language, sexual content and adult situations.
ebook
Published December 9th 2013 by Silver Griffon Associates
Source: Netgalley
Purchase this book:
Goodreads
|
Amazon
OUR REVIEW:
This book will grab your attention immediately. Mia's manifesto is girlpower and badass and RAWR. I was feeling it. Of course, as I read further, I realized that while her strong feminist views were part of who she was, really she needed money to help pay bills.
Sure. She could definitely talk the talk, but as I read I wondered if she would be able to walk the walk. I've seen random posts online about girls doing this, and at first I thought, how on earth will this play out? But, as I told Shel while I was reading...the author had well researched this entire thing, and I was glad of that and that her friend in the book had her back with the stipulations that went with auctioning off your virginity.

So I've been thinking about this book for a few days and I think I have some mixed feelings. I'll start with Mia. I loved her feminist views--how she questioned why women were objectified in the gamer world and that she spent her free time challenging that world. I loved that she loved her mom so much that she would do anything to help her. I loved her focus and determination. I wasn't in love with her refusal to figure out how to make the situation work when things with Adam started developing into something more. For someone who was so strong and honest, her inability to be honest with herself (and Adam) was infuriating. She kept pushing him away and refusing to give him an inch and while I could sometimes understand her rationale, it still made me aggravated.
OMG, I agree. She went into this thinking certain things, and as that evolved the ONLY thing she admitted to herself was that she was in over her head. She was so conflicted...and I think that set us on a path to frustration because she owned her views at first, and then not so much later. I loved the gaming aspect of things, and the online friends. We obviously are big fans of an online community of friends, so that was awesome.

Adam was also frustrating. He was so secretive and deceptive in his approach to trying to help her out. While everything he did was out of concern and care, it was also not his place to decide when or how to shield her. Had he been upfront from the start would she have allowed him into her life? Probably not. Still, by being dishonest, he basically guaranteed that she'd run from him. And she did.
I have to agree with this as well. He was one way when they first met, that I found off putting. Then the next time they speak, he's another. I think that brought in a lot of my wonderment as to what would happen next, and had me up half the freaking night trying to figure it out! Yes. The reading is fast and intriguing to make me pull almost an all nighter to finish the book, see how it ended, and see how big the explosion was at the end.
Adam's story was interesting, if unbelievable. Sure, he could be an internet mogul bazillionare but for someone so closed off, I had a hard time buying that he was as intuitive as he was with her. Then again, this is fiction and I guess if we're going to have this entire scenario to begin with, we have to forgive certain things. Case in point, his relationship with his family. Poor thing. I can't say more than that without you having read it, but yeah. His family.

This doesn't necessarily end in a cliff hanger but it does leave you with a feeling that it's unfinished. Turns out this is a 3 book series. Book 2 is out and book 3, I think, has a release sometime this year. Eeep. No, finished this is not. And I am super nervous to find out where they go next...angst!

Shelley: 3.5 stars
Courtney: 3.5 stars
About the Author
(Goodreads Bio)
Brenna Aubrey is an author of New Adult contemporary romance stories that center on geek culture. Her debut novel,
At Any Price
, released December, 2013.
She has always sought comfort in good books and the long, involved stories she weaves in her head. Brenna is a city girl with a nature-lover's heart. She therefore finds herself out in green open spaces any chance she can get. A mommy to two little kids and teacher to many more older kids, she juggles schedules to find time to pursue her love of storycrafting.
She currently resides on the west coast with her husband, two children, two adorable golden retriever pups, two birds and some fish.
Brenna's short story "The Love Letter" was the Grand Prize winner of the
Jane Austen Made Me Do It
Short Story Contest. As such, it was included in the anthology of the same name (Ballantine, 2011)