We're celebrating the release of This Is Falling by Ginger Scott! Check out the excerpt below and let us know what you think!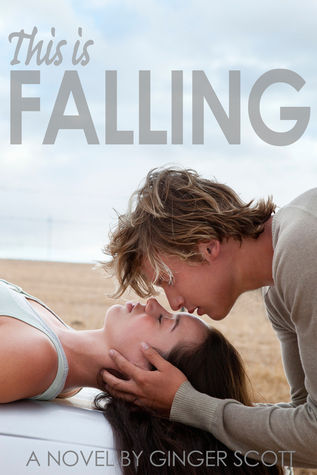 Title: This Is Falling
Author: Ginger Scott
Age: NA
Genre: Contemporary Romance
Release date: August 29, 2014
Blurb:
First, I had to remember how to breathe. Then, I had to learn how to survive. Two years, three months and sixteen days had passed since I was the Rowe Stanton from before, since tragedy stole my youth and my heart went along with it.
When I left for college, I put a thousand miles between my future and my past. I'd made a choice—I was going to cross back to the other side, to livewith the living. I just didn't know how.
And then I met Nate Preeter.
An All-American baseball player, Nate wasn't supposed to notice a ghost-of-a-girl like me. But he did. He shouldn't want to know my name. But he did. And when he learned my secret and saw the scars it left behind, he was supposed to run. But he didn't.
My heart was dead, and I was never supposed to belong to anyone. But Nate Preeter had me feeling, and he made me want to be his. He showed me everything I was missing.
And then he showed me how to fall.
OUR REVIEW:
I seriously don't think Ginger Scott has written a book that I haven't loved. I remember each one vividly and she's always one of my favorite writers to recommend. This is Falling will officially be added to the list of books that I will most definitely be recommending to anyone who asks. Repeats what she said! Huge fan!
There are so many things to enjoy about this book..like:
---Rowe's story, while it is heartbreaking, it shows us a little about risk and reward. She's a brave girl who could've easily hidden from life for ever (and honestly many people would or at the very least, wouldn't blame her for wanting to hide) but she doesn't; she goes way outside of her comfort zone and tries hard to live in the moment, in the world. I very much appreciated her strength. The age she is at! When all we are trying to do is be normal...gah. ((Now I know how wrong that idea is...but at 18...). A fantastic coming of age story from Ginger pulls at your heart strings, and it is definitely a topic I was not expecting to read about. I loved Rowe.
---Nate was a perfect mix of good and fun and naughty. He felt this instant connection with Rowe and with almost single-minded focus, went after her and patiently waited for her to be ready for what he had to offer. Not only was he amazing to/for Rowe, I loved how much he loved his brother, Ty. I have some serious love for Nate. Serious. Love. And those Preeter brothers..well, they make my heart go pitter patter pitter patter. YUSSZ. Nate Preeter is a baseball god in this story, and I lurrrrve that. Nate gets made fun of a lot for his "go to" girl, but I loved that he had a type that was Rowe. And how they met. Awkward. But hilarious. And fun. And that just goes with Nate as a person. He is confident, for his age. He is everything that you hope to find as a love when you're young. Grade-A Book Boyfriend, y'all!
--Rowe and Nate. Gah. These two are freaking adorable together (once they get passed some uncomfortable moments). They're genuinely good people and they both want the best for each other and those around them. Oh..and they're also hilarious. The stunts they pulled on each other had me laughing with glee. ME TOO! I loved that. She's finding her footing, and he is helping her without wanting to push too hard. Then there are these moments that make them remember they're young, wild and free and can have fun without all of the heaviness of life. It was beautiful.
--Ty, Cass, and Paige...these secondary characters round out the novel and enhance our understanding of Rowe and Nate. They add drama and humor and are great sounding boards for our main characters. Can I say that I am really excited for a Ty POV book? Hhhhmmm...That character is intriguing!
-- Ginger's writing. Ginger has this way of hooking me into her novels in just a matter of sentences and then I have the hardest time putting her books down. The dialogue and pacing are perfect. The balance of humor and romance and steam and seriousness is exactly right. Her novels never leave me. I have distinct reactions and thoughts for each of them...I can remember, vividly, certain scenes that will never leave me, ever..and that's the best thing ever. LOVE YOU GINGER SCOTT! RIGHT! Each one of her novels finds a way to hook us in the best way possible. It is amazing that this novel is quite a bit different than the others in trope, but I still was 100% invested. Each character is someone I want to know, and for me, that is the best.
I absolutely cannot wait to see where Ginger takes us next on her writing journey...and I bet you can't either. We hope come along for the ride. Yep. This bandwagon is looking for people to jump on it with us! And yaya for spoiler free. There is so much MORE to this book than what we have said. You just HAVE to read it to find out what is going on, and all of the deeper elements. Because they'll come out of nowhere and surprise you!
Shelley: 5 stars
Courtney: 5 Stars
Excerpt
"You ever make wishes?" he says, out of nowhere. His voice breaks the thick silence, and it makes my heart jump. I think it would have jumped at hearing him anyhow.
"All the time," I say. "You?"
"Nah," he says, and I start to laugh, but I realize he isn't. "I just made my first one in years."
Breathe.
"Oh yeah? You want Barbie back?"
"No," he smiles. "I wished you were over here instead of there."
Oh.
More seconds pass, and I let them slip into minutes, my eyes unable to leave his. He didn't ask. He didn't come up with some transparent scheme. He was just honest—perfectly, beautifully, terrifyingly honest. We lie there for fifteen more minutes just looking at one another, this new feeling swallowing us both up whole, until Nate finally rolls to his back and then his other side, facing away from me.
More seconds. More minutes. I watch his body rise and fall with every breath, and it's constant and regular, but I know he's still awake. Being Cass's friend, being Paige's friend, even being Ty's friend—that's all part of healing. But what I'm about to do right now has nothing to do with my own personal growth and overcoming my trauma. Being Nate's friend was a level I left in the dust the second I made his acquaintance. And right now is about me, and the pounding in my chest, and the voice in my head telling me to take what I want.
"Nate?" I speak, my eyes shut tightly.
"Yeah?"
"Can I come over?" I open my eyes as soon as I speak—amazed the words left my lips.
He rolls back over to face me, lifting his blanket open, and I somehow find my balance and tiptoe to the other side of the room, lying down next to him, in the most amazingly safe place I've ever felt.
He's slow with his arm, pulling the top of the blanket over my shoulder and then reaching around the front of my body to pull me in close. He slides his other arm under my head for a pillow, and my head rests heavily on his bicep. I reach up and pull the tie from my hair, dropping it to the floor. Nate's hand reaches along my arm when I do, and then he runs his fingers up my neck and into my hair, scooping my heavy strands into a pile along my skin. He continues to run his fingers from my hairline to behind my ear, each stroke like a wave crashing over me, making my eyes feel heavy.
"Hey Nate?" I say, my voice barely a whisper.
"Mmmmm," he says, his nose pressed against the back of my head while he pulls me in closer, continuing to wind my hair through his fingers.
"You should make more wishes," I say.
"I just made, like, about twenty. But don't worry. I'm patient."
Every nerve in my body is tingling from whatever it is we're doing. This is no longer just flirting. This is levels beyond flirting. And I am about to fall asleep without the help of Ambien for the first time in months.
About the Author:
Ginger Scott is a writer and journalist from Peoria, Arizona. She is the author of four young and new adult romances, with her fifth title, This Is Falling, set to release in late August 2014.
Scott has been writing and editing for newspapers, magazines and blogs for more than 15 years. She has told the stories of Olympians, politicians, actors, scientists, cowboys, criminals and towns. For more on her and her work, visit her website at
http://www.littlemisswrite.com
.
When she's not writing, the odds are high that she's somewhere near a baseball diamond, either watching her son field pop flies like Bryce Harper or cheering on her favorite baseball team, the Arizona Diamondbacks. Scott is married to her college sweetheart whom she met at ASU (fork 'em, Devils).