The Last Good Knight: An Original Sinners novella told in five parts.
Part I: Scars and Stripes
It's lust at first sight when Mistress Nora encounters a sexy newcomer to The 8th Circle. She's happy for the distraction, since she left her lover, Søren, but her session with Lance is cut short when her boss, Kingsley Edge, reveals they're all in danger….

Kindle Edition, 31 pages
Published May 6th 2014 by Harlequin MIRA
Source: received from publisher via netgalley
Our Review:
Pt. 1: I felt like this was a nice, albeit brief, introduction to some of the main characters in this series. We get a taste of who they are and a view of Nora's mind..and BONUS--we see who she is before Siren. The main character here, though, might be the anticipation of sex..and all of the conversation and thoughts that go along with that. Right. Having been reading about this series, and itching to make time for it for a while now, we know who Kingsley is...who Soren is (sort of) and who Nora is. We read Tiffany's tweets daily, and just as she is hilarious there, her characters are hilarious here. First impression, I wish each piece were even longer. Too greedy! Onward, y'all.
Part II: Sore Spots
With a potential stalker on the loose, Kingsley hires Lance as Nora's bodyguard, but stipulates no sex while he's on duty. Frustrated by the ex-SEAL's noble chivalry, Nora is driven to seek release with the one man she's trying to forget….
Kindle Edition, 29 pages
Published May 7th 2014 by Harlequin MIRA
Source: received from publisher via Netgalley
Our Review:
Pt 2: In this next installment we get initial answers about what has happened to one of Nora's friends and the command that every female must halt their activities in order to be safe. Nora, being Nora, does not take kindly to this suggestion and decides to continue with her clients. So Kingsley demands a body guard accompany her on her jobs. This body guard is...well...it's interesting and even more insights about the characters involved in this series are gained. Correct. Insights that are just as captivating, if not more so than the intimate look into this lifestyle that the first book gave us. This whole world is so freaking intriguing, that I was burning through these pages in no time flat...and no, I wasn't asking Mistress Nora for permission to do so.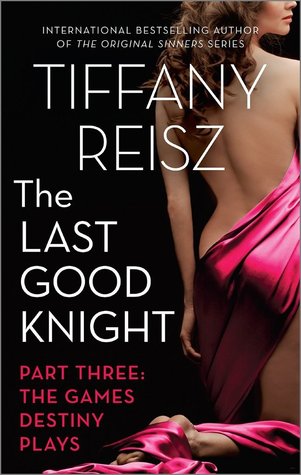 Part III: The Games Destiny Plays
Shocked to see Nora's bruises, Lance is furious that she put herself in danger and demands to know where she got them. As Nora confesses her true nature, she's equally shocked to learn that Lance has some secrets of his own, drawing them together despite Kingsley's orders….
Kindle Edition, 35 pages
Published May 8th 2014 by Harlequin MIRA
Source: received from publisher via Netgalley
Purchase:
Goodreads
|
Amazon
Our Review:
Pt.3: Part three has us entering the world of Nora and Soren and for those unfamiliar with their story, this will give you just a taste of the complications that their relationship possesses. Just as quickly as we enter their world, we leave it to return to the Lance and Nora. I particularly loved her observations about how women are judged for their sexuality...I loved how Nora felt a need to help Lance and acted on it.
As an avid follower of Tiffany on twitter, I see Soren's name everywhere. We haven't gotten properly acquainted just yet...but I can see that I will like him in all of his eight-foot-tall-ego-ness, and how alpha and bossy he is. The fact that he is a priest, and has this secret life is so very intriguing...so very intriguing indeed. Just. Whoa. And...I have to add...the scene in this one was ridiculously hot, with some Lance masturbation that I have to just tell you...you have got to read this series. *turns on a fan*
Part IV: Fit to Be Tied
With her feelings for Lance warring with her recent encounter with Søren, Nora returns to Lance's bed and finds herself toying with the idea of…toying with him on a permanent basis. But after she gets a glimpse into his personal angst, Nora realizes she has the power to rescue this white knight….

Kindle Edition, 25 pages
Published May 9th 2014 by Harlequin MIRA
Source: Received from publisher via Netgalley
Our Review:
Pt 4: This was a bittersweet section...more bitter, very little sweet....as Nora and Lance seek information and hear some very honest news. I appreciated the 'rip the bandaid off and just tell it like it is' approach. It was honest and felt very real. I hate that real life is exactly as it was described but appreciated the honesty that Tiffany gave in this section.
Didn't mean I still wasn't really sad. And bummed. And just...gah. But don't we want real life scenarios in our romance. I do. But you poor souls have to read my whining about it later. Or right now. Yeah.
Part V: The Last Good Night
Now that the perpetrator has been apprehended, Nora sadly acknowledges she doesn't need a bodyguard anymore. She adores Lance and wants to keep him but is faced with a dilemma—if she uses her connections to help Lance, she'll have to give him up forever…

Kindle Edition, 28 pages
Published May 10th 2014 by Harlequin MIRA
Source: received from publisher via Netgalley
Our Review:
Pt. 5: Sweet sorrow. That's how I'd describe my thoughts here; I understood why things had to be the way they were and I loved the honesty and sorrow and sweetness of it all. I'm so glad it was true to the way life is--it's not always a happy ending; not always a save the day moment..life is messy and complicated and filled with longing and want. Even with all of that, though, Tiffany still left me smiling by the end. And I hope everyone takes a minute to read her note at the end and our world finds a way to be more open and accepting as the days, months, and years go by.
Right. I have to say that reading this, and my general consensus lately on pretty much anything...let people's (and our own) freak flag fly and enjoy life and have fun. That is what it is all about...and I loved that this idea is a major theme in this series. I loved this series very much, and it really went by way too fast. I loved Nora's snarkiness and fight to forge her own path, even if that meant giving up some things she had loved for over a decade. That takes some serious brass balls, and if anyone has them it is Nora. This is a serial, and it seems The Original Sinners as a whole, that is not to be missed.
Shelley: 4 Stars for the series
Courtney: 5 Stars for the series
About the Author:
Tiffany Reisz is the author of the internationally bestselling and award-winning Original Sinners series for Mira Books (Harlequin/Mills & Boon). Tiffany's books inhabit a sexy shadowy world where romance, erotica and literature meet and do immoral and possibly illegal things to each other. She describes her genre as "literary friction," a term she stole from her main character, who gets in trouble almost as often as the author herself.

She lives in Portland, Oregon. If she couldn't write, she would die.