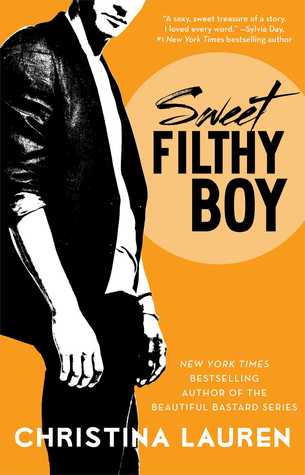 One-night stands are supposed to be with someone convenient, or wickedly persuasive, or regrettable. They aren't supposed to be with someone like him.
But after a crazy Vegas weekend celebrating her college graduation—and terrified of the future path she knows is a cop-out—Mia Holland makes the wildest decision of her life: follow Ansel Guillaume—her sweet, filthy fling—to France for the summer and just…play.
When feelings begin to develop behind the provocative roles they take on, and their temporary masquerade adventures begin to feel real, Mia will have to decide if she belongs in the life she left because it was all wrong, or in the strange new one that seems worlds away
Paperback, 416 pages
Published May 13th 2014 by Gallery Books
Source: Purchased
Purchase a Copy:
Goodreads
|
Amazon
OUR REVIEW:
Shel: People.
Shel: Seriously.
Shel: SERIOUSLY.
Shel: When you find a book like Sweet Filthy Boy you absolutely have to do me a solid and tell me to read it. If I'm skeptical, shush me. Put the book in my face and do not shut about it until I capitulate.
Court: Dude. NO kidding. This book was absolute DEVOURED, and had me staying up late, and loving it in the best way. I was laughing hysterically out loud because these are girls and guys that I would love to know in real life. They hold their friendships dear, and that was evident from the very beginning. Just so much love!
"No! God. Put ten dollars in the Whore Jar," I tell her. "You're such a troll."
Shel: This book. Gahhhhh. This book was just so much of everything I needed in a book this weekend; I want to live in this book. It was fun and funny and hot as hell and the undercurrent of serious 'stuff' made it a perfect read for me. It's interesting, as I'm thinking about this book, how much I'm loving this book, because prior to reading it, I didn't think I'd enjoy this whole Vegas one night stand thing as much as I did--it seemed way too out of my reality for me to relate to <insert maniacal I told you so laughter here>. This book was so much better than I expected. Mia had this really great mix of dubiousness about what the heck she was doing + reminding herself to live in the moment and enjoy it and it totally worked. I loved how true her character felt to me--that desire to ignore the looming life events and to deny some hard truths for just a few more days or weeks because it was just too real, too much. And, I adored Ansel and his boyish sweetness, his tentativeness with her (when it was needed), and his gentle questions about her future. I loved how they 'played' and how many people probably could relate to their method of allowing themselves to be vulnerable without feeling overexposed. And I loved how they adored each other, cared for each other, and reading about how they learned about each other was just so fresh and sweet and tender and sexy.
Court: I loved each character from the get go. There is definitely nothing wrong with being "sweet" and giving in to something you want in the sake of having fun, and these new college grads definitely lived it up in Vegas. I was somewhat surprised by the Vegas line, simply because I didn't read the blurb. Hah, right. Shel said read this effing book, so I effing did. And I loved it so much. I feel so rejuvenated by being able to find a book and read the heck out of it, and not want to stop. And...I liked as we got deeper into the story that they "played" and had to really, really, really work to get to know each other as it sunk in that they were STRANGERS! It was not easy, and as Mia felt loneliness so did we, and as she felt confusion and heartache so did we, and as she felt hot and wanton...so did freaking we! I liked that they had to also "work" at the whole sex thing, because guess what...life is not a romance novel all of the time, and it is refreshing for a romance novel to remind me that it can be awkward, and the awkwardness is to be embraced and much as the epic!

Shel: Also? They were totally hot. Court: God, so hot.

Shel: I now want to go to Paris and listen to a hot Parisian just talk and flirt (don't tell my husband). Court: Girl, only if I can go.

Shel: Lastly, I really enjoyed how it ended which might be strange because as much as I liked the ending, I want more of their story. I guess that I should clarify--I liked how it ended in that it seemed the most realistic ending for this fictional dilemma and it was completely satisfying. However, I'd love to know how Mia and Ansel are doing. Court: I am definitely looking forward to continuing the story to find out. I was not surprised by the train wreck that was coming, but I loved each page and how each detail was written with seemingly so much care. I loved the references to Paris, and even La Jolla (I love that place...take me back!) and how I felt each detail was playing on video in my head when she traveled around, and I smile because of that even still. This book was special, and I can't wait to see what is in store for Lola and Harlow.

Shel: If you're like me and you weren't sure if this would be a good book for you, learn from me. It's a freaking fantastic book. It's so easy to read and the characters are ones you quickly become invested in. I am so mad at myself for not reading this series sooner and I'm excited to dive into the next one. Court: Especially since I own ALL of the Beautiful Series books, and yeah...got lots of reading to do! Thanks for recommending this one to me Shel!