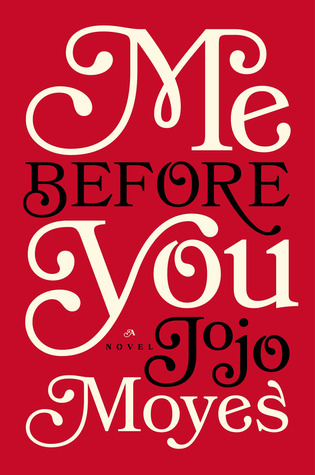 Lou Clark knows lots of things. She knows how many footsteps there are between the bus stop and home. She knows she likes working in The Buttered Bun tea shop and she knows she might not love her boyfriend Patrick.
What Lou doesn't know is she's about to lose her job or that knowing what's coming is what keeps her sane.
Will Traynor knows his motorcycle accident took away his desire to live. He knows everything feels very small and rather joyless now and he knows exactly how he's going to put a stop to that.
What Will doesn't know is that Lou is about to burst into his world in a riot of colour. And neither of them knows they're going to change the other for all time
Hardcover, 369 pages
Published December 31st 2012 by Pamela Dorman Books/Viking (first published January 1st 2012)Source: Purchased
Purchase a copy:
Goodreads
|
Amazon
OUR REVIEW:
Shel: It's not been 12 hours since I've read Me Before You and now that I've had time to digest it I have lots of really disconnected thoughts... I guess I should start with the easy stuff: I really enjoyed Moyes' writing--it was super easy to read and to have feelings for the characters, and the humor was much needed, always appeared at the right moment, and was very much appreciated.
I thought that Lou's aimlessness, while frustrating, is something that many people feel and don't read in books and it was interesting to see a character live with it. I have students and friends, in real life, who have (or still) struggle with finding the thing(s) that they feel passionate about and I know they would relate to Lou. I realize that for people who know what they want from life that this is a foreign concept but not everyone has it figured out and having a character like Lou was different and refreshing.
From reading other reviews, I know some people thought that the relationship between the sisters was juvenile but don't we all sometimes fall into our childish ways when with our siblings? Lou and Treena loved each other and had been locked into their sibling ways for a while and the way they treated each other and loved it each other rang true to me. They weren't perfect; they were flawed as most familial relationships are. Speaking of flawed relationships....
Court: I relate to Lou in a million in one ways, but I was in love with her from the moment we "met" and I realized she is 26, she is still figuring out her purpose or passion as you said, and struggle to just "be" so that was what I think drew me to her in the beginning. But...then I really loved each characters individual voice so much because this family did not hold anything back from one another. (For the record, with the siblings thing...even now that my brother is almost 30, I am 26, and my sister is 24...my mom complains that we revert back to early teen shenanigans every time we enter her house....) I liked and disliked how Lou is treated by her family in equal measure. Her father is hilarious. But..I'm sure those jabs would get old. But it was true. And if anything rings
true about this book is that it is complex, and holds so many gray areas in human nature and how imperfectly perfect we are.
"...I just...want to be a man who has been to a concert with a girl in a red dress. Just for a few minutes more..."
Shel: The people I feel a little more conflicted about are the parents and Will. I'll start with the parents. Initially, I didn't really care for Lou's parents. I thought they were so insulting to her and the pressure she felt to provide seemed pretty hefty. I came to like them more and more until the end when her mom said some things that were distressing. Will's parents were even harder to like and relate to, for me. His mom, even after reading her pov, was just so cold and withdrawn and I couldn't help but judge her. His dad, while warmer, was also one who seemed so removed from this entire situation and I just didn't get it. How is it that two strangers, Lou and Nathan, seemed more clued in and willing to be attuned to Will than his parents? I wanted them to snap out of their mourning and just freaking love him on the terms that he needed them to. His entire family just was frustrating.
Court: That is so hard. They "tried" to fix him any way they could, but really...they didn't "really" give up everything to be with him. And maybe that is a snapshot look into how hard it is for families when full time caregiving is involved. Look at Lou's mom...she stayed at home with her father and was his full time caregiver, as well as to her family and things were warm and inviting in their home. Will's parents and family seem to have been in World War III for well before his accident...and I think they thought their version of taking care of him would fix the divide in their love. Lou is so special because she doesn't try to be any one thing to everyone, but was the same person with whomever she met. Wild fashion sense, and a blunt mouth and she is an independent woman to root for...even if she didn't know her wings were ready to go.
"You cut yourself off from all sorts of experiences because you tell yourself you are 'not that sort of person'""But, I'm not.""How do you know? You've done nothing, been nowhere. How do you have the faintest idea what kind of person you are?"
Shel: Will was ....someone I've thought a lot about in the last hours. Who am I to say that what he felt was right or wrong? Who am I to say that if I found myself in his position that I would do this or that? I can't say. I don't know. I'm at a loss, really. I cannot validate or invalidate arguments about how right or wrong his decision(s) was/were. I can say that not everyone would have the resources to do what he did and that his decision was one that his wealth and privilege allowed. And I can also say that Lou's emotional turmoil about how to handle all of it felt really true to how many might feel if they were in her shoes, I think? I wanted to hate him for things and yet I can understand (as best as I can) why he tells Lou what he does, at the end. Gah. It's complicated.
"...I told him a story of two people. Two people who shouldn't have met, and who didn't like each other much when they did, but who found they were the only two people in the world who could possibly have understood each other."
Court: I get Will. And I equally don't. But...I would have to say I have had many thoughts in my head regarding my own personal loss recently...and when you see someone you love suffering so profoundly...the black and white areas begin to blur. I would like to say more, but just implore you to read this book and feel something for these characters. Even if you don't feel something particularly exciting...but I cry even as I write this now, because the characters Jojo Moyes created were so powerful and beautiful to me. Louisa in everything she did to take care of this broken man, and Will in his own way for opening up the eyes of everyone he met.
"You're going to feel uncomfortable in your new world for a bit. It always does feel strange to be knocked out of your comfort zone."
Shel: I appreciated Moyes creating these characters and giving me many things to think about. It made me wonder if I'm guilty of the behaviors she accused bystanders of having. It made me wonder what other quadriplegics would think about this novel. It made me think about how important compassionate and understanding caregivers are. It made me think about my own decisions and how I'd react if or when I'm asked to consider these choices in my own life. And so bottom line? I liked that we read this and that it provoked such thoughts and questions and while I think it ended and didn't necessarily need a second book, I'm glad that we have it and that we can see what's going on with these characters.
Court: I am so very excited for one thing that the second book is already out! Haha. But, I am afraid of what will come. I loved this book, and cannot wait to read more Jojo Moyes because her writing is so beautiful and her plot so rich and her characters have come to life in my head and my heart. I stayed up way too late, before a day when I had to get up way too early and could not put this book down. This story made me laugh out loud with abandon, and then be somewhat melancholic only to bring me back. Life changer list it went, and I
have talked about it to so many people today.
No matter the content, that is what I am looking for. Every single book. and if all of her work is like that, I will be a happy lady!
"...Live boldly. Push yourself. Don't settle. Just live well. Just live."