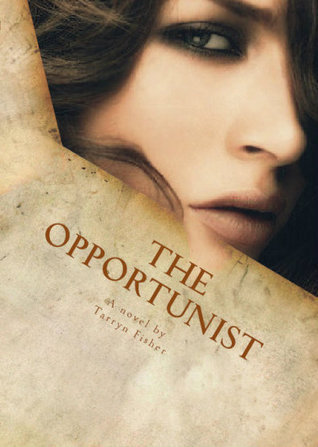 Olivia Kaspen has just discovered that her ex-boyfriend, Caleb Drake, has lost his memory. With an already lousy reputation for taking advantage of situations, Olivia must decide how far she is willing to go to get Caleb back. Wrestling to keep her true identity and their sordid past under wraps, Olivia's greatest obstacle is Caleb's wicked, new girlfriend; Leah Smith. It is a race to the finish as these two vipers engage in a vicious tug of war to possess a man who no longer remembers them. But, soon enough Olivia must face the consequences of her lies, and in the process discover that sometimes love falls short of redemption.

Kindle Edition, 278 pages
Published November 14th 2011Source: Purchased
Purchase this novel:
Goodreads
|
Amazon
Shel: Dear Tarryn,
I first fell for your prose in Mud Vein and devoured it in Marrow. I've been eager to start your Love Me With Lies series but SOMEONE (I'm looking at you Court) was a little hesitant to start it. I'm happy to report that she finally gave in and not only read it with me but then that little shit and her supersonic reading rate sped past me and finished it a day before I did.
Court: *hangs head in shame* I did. I asked her repeatedly to wait. Do you have any idea how many times it was on the calendar? A lot. And just like Thoughtless, I said "PLEASE WAIT" a little longer. Love triangles hurt. They scare me. But it turns out, I am definitely that little shit, and was so wrong. I loved it so much, that I stayed up half the night to finish it!
Shel: To be honest, I didn't really know what all of the hoopla was about with this series because I wanted to go in blind-- I've tried to remain willfully ignorant just so that I could enjoy it the way everyone else has. BUT NOW I KNOW. Now I know why so many people seem to have very strong opinions about Olivia, Leah, and Caleb. I also know that with two books to go in this series I should reserve final declarations about these characters until I finish reading the last word in the last book.
Court: Hell yes. I am still in shock by how they would surprise me at the most surprisingly places!
Shel: So, here's how it went down:
I read.
Lose my shit.
Text Courtney using both words and gifs to try to explain my crazy.
Read more.
Annoy Jaime and Jennifer with my thoughts.
Text Courtney.
Receive texts from Courtney that indicate that I'm going to lose my shit as I near the end.
Respond to texts accordingly.
Read more, more, more.
Pause.
Tweet how my mind has been fucked.
Text Courtney gifs of my various mental states.
Send same gifs to Jaime and Jennifer.
Finish the book at 1:30 AM.
More texts and messages and rambles of the OHMYFUCKINGSHIT variety.
Court: Yep. It went pretty much exactly like that. But, omg, it was so much fun! We have fun texting angsty things to each other, hahahaha!
Shel: And now? Now I'm calm.
Why?
Well, first of all because I know I have two more books to go and I know I need to save my energy for rounds 2 and 3. Second, I've had a full day to really absorb some things and I guess I'm feeling relieved. I had no idea what to expect and I guess part of me worried that I wouldn't like it since I knew it was different than Mud Vein and Marrow. Guess what? I liked it. I liked how completely fucked up Olivia and Leah and Caleb were/are. I liked how messy their relationships were and how that messiness seemed real, normal......honest. I liked that I disliked them all at points and yet I could find redeeming qualities in them all.
Court: Right! I loved each one for different reasons from the get go. Each scene either made me smile, laugh, gasp, yell at my phone "NO! Don't do that!" and a plethora of other craziness that I really shouldn't put out in the universe for others to realize how crazy I am! I told Shelley, in not so many words that while I love Caleb, I have a major girl crush on Olivia. Her character in both the past and present looks that we get, is stunning. She is honest, in her head, if the only place...and I can't wait to read more about these people!
Shel: I also liked the idea of Noah. I've heard that I'll learn more about him as I read and I'm very curious about this dude. We get a little bit of insight at the end of The Opportunist but I feel like there's more to know.
Court: Dude, right? Ain't nobody mentioned by accident. He'll have a purpose, even if it's just to rip my heart out and stomp on it.
Shel: I'm not sure if I'll get this wish, but I wish I knew more about Olivia--more about what makes her tick. Maybe by seeing how others view her in the next two books, I'll have a more rounded picture of who and why and how and what...or maybe I won't. Maybe Olivia is and I should leave her alone.
Court: aww, I know how you feel. I feel that way about Caleb.
Shel: Finally, Tarryn, I was telling someone today that I could feel your emotions almost bleeding through the words in sections. This isn't a new phenomena when it comes to your work; every one of your novels have these places that I feel you reaching in between the spaces of the words and letters, reaching through my flesh and bones, until you are inside me and I'm there with you and it's crazy and wonderful and strange and beautiful.
Court: Right. This one is softer, for lack of a better word, than the harsh reality of Marrow, but on pace with Mud Vein for the ability to rip my heart out, squish it around for a wee bit, and then put it back like "oops, sorry, I...uh, yeah" like one does when they almost knock something off at a store of breakable things...and have to walk out awkwardly with the store owner knowing what you almost did. I couldn't stop reading it. I devoured it. I love the writing and how things are slowly revealed to me in the past, but the present there are clues being given as well. I got so much from each scene, that when things get crazy toward the end....what I thought I knew was DEAD WRONG. And I am soo excited about it!
Shel: From this first novel to the most recent, I see the essence of you, of your style, and with each book your writing gets stronger and stronger until one day I suspect it will be almost superhuman in its ability to crawl inside of our hearts and heads and show us the world. How fucked is it that I'm looking forward to that?
Court: Honey, I feel the same way. I am so excited to begin Dirty Red, and know that I will have yet another all nighter. I am also nervous. But, the writing definitely will keep us coming back every single time. Tarryn's ability to weave together words in a way that makes me sad and cry, but yet make me at peace with what has transpired is a bit legendary.
Until next time,
Shelley
&
Courtney