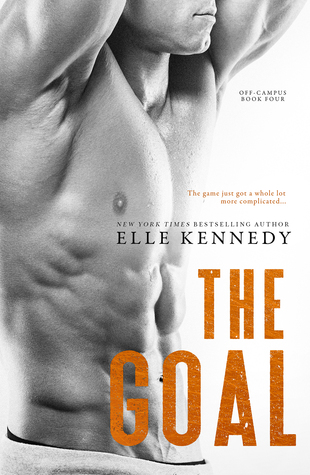 OUR REVIEW:
Shel: OHMYGOD someone punch me for waiting so long to read an Elle Kennedy book. Seriously. Right now. Punch me. I mean, what the hell. Why haven't I been reading her books from the beginning of time? I'm so behind. Good news, though--I'm officially on the Elle Kennedy fangirl bandwagon and I'm looking forward to reading all of her previously released works because The Goal was one of those reads that sucked me in immediately and I found it impossible to put down. Court: DUDE<I told you! Hahaha! I am so glad you finally did.
Shel: The heroine, Sabrina, was delightfully prickly and stubborn with what I imagine to be the best RBF ever. I loved her from the start--how driven she was, how she viewed sex, how hardworking she was...basically everything about her was awesome, until it wasn't. Until I wanted her to give in and just say those three humongous words to Tucker that seemed impossible for her to say; then? then, I wanted to throttle her a little, or maybe a lot, even as I was totally understanding why she was doing what she was doing. So what I guess I'm saying is that I loved the character of Sabrina and all of her hardass ways and even if I didn't always agree with her, I appreciated everything she was about and what she was trying to accomplish. Court: Yes, she is a deep character. She has her own way of doing things, and has grown up not relying on sharing that with anyone. She holds her own and doesn't let people think less of her for her choices and she's always working hard. Enter Tucker, and I swooned so hard I fell over.
Shel: Equally wonderful was Sabrina's counterpart, Tucker. This guy was damn near perfect. Actually, I think he was perfect. He's everything you'd want for Sabrina: kind, smart, sexy, patient, and totally in love with her. Did I mention how patient he was? Tucker had the patience of freaking Job when it came to Sabrina. I don't know how he did it--he gave her everything and trusted that it would work out even when all signs pointed to no. He handled everything with calm and ease and confidence and if I were single, I'd want Tuck. (I kinda still want Tuck and I'm happily married. That's on you, Elle Kennedy. Damn you and your dreamy Tuck). Court: Yep. Let me at him, please. (JK Sabrina might kill us if we tried, lol) but you get me. I really liked his relationship with his friends, his goals, ironically his relationship with his mother but most of all how he said he would be there for someone and really held true to that statement.
Shel: Elle Kennedy had a huge task--to take two characters who weren't prepared for parenthood and create a world that would somehow work out for them. Not only did she make it work, she made it so very interesting. I loved many of the secondary characters (and can't wait to read their books) and I loved to hate Ray (ew, ew, ewwwww). I don't even like being freezing cold and I found myself longing to hang out in Boston in the winter where I'd somehow find myself hanging out with this gang of friends. Thanks so much for taking me away from a weekend of grading papers and plunging me into the world of Sabrina, Tuck, and all of their friends; what a fantastic way to spend my Saturday. Court: I wish characters like Ray all of the worst kinds of food poisoning in all of the world. And that they crap their pants walking home from the bar, and yeah that went a weird place but I'm not deleting it. I also agree with everything you said. Their friends are great, the setting is awesome, and the "twist" if you will is a really great addition to the book. I was nervous how she would handle things...and holy calzone things got real, really fast.
Curious to know more? Read below or buy it here: http://amzn.to/2cYGV1Z
She's good at achieving her goals…
College senior Sabrina James has her whole future planned out: graduate from college, kick butt in law school, and land a high-paying job at a cutthroat firm. Her path to escaping her shameful past certainly doesn't include a gorgeous hockey player who believes in love at first sight. One night of sizzling heat and surprising tenderness is all she's willing to give John Tucker, but sometimes, one night is all it takes for your entire life to change.
But the game just got a whole lot more complicated
Tucker believes being a team player is as important as being the star. On the ice, he's fine staying out of the spotlight, but when it comes to becoming a daddy at the age of twenty-two, he refuses to be a bench warmer. It doesn't hurt that the soon-to-be mother of his child is beautiful, whip-smart, and keeps him on his toes. The problem is, Sabrina's heart is locked up tight, and the fiery brunette is too stubborn to accept his help. If he wants a life with the woman of his dreams, he'll have to convince her that some goals can only be made with an assist.