High school senior Ally Duncan's best friend may be
the
Vanessa Park - star of TV's hottest new teen drama - but Ally's not interested in following in her BFF's Hollywood footsteps. In fact, the only thing Ally's ever really wanted is to go to Columbia and study abroad in Paris. But when her father's mounting medical bills threaten to stop her dream in its tracks, Ally nabs a position as Van's on-set assistant to get the cash she needs.
Spending the extra time with Van turns out to be fun, and getting to know her sexy co-star Liam is an added bonus. But when the actors' publicist arranges for Van and Liam to "date" for the tabloids just after he and Ally share their first kiss, Ally will have to decide exactly what role she's capable of playing in their world of make believe. If she can't play by Hollywood's rules, she may lose her best friend, her dream future, and her first shot at love.
I know it's strange that I don't read a ton of YA books considering my work audience is 100% YA, but I guess in the past I've felt like my entire existence from August to May is consumed with the issues I suspected pervaded YA lit and it's nice to escape it in the form of seemingly more adult-ish literature. And honestly? Sometimes I feel like my brain is leaking out of my ears without some literary fiction thrown in the mix (though reading for my AP classes kill that end of the spectrum for me too). I've learned, with the help of Dahlia Adler and her absolutely amazing reading recommendations, that not all YA has to be what it was when I was a younger girl reading Sweet Valley High and Go Ask Alice (I loved both by the way..judge me, I DON'T EVEN CARE). There are some really fantastically written, thought provoking, literary and commercial, fun and serious, simple and complex YA books being published these days. Over the course of the next days, weeks, months, and years, I hope to begin to delve more into this world and share some of my favorites. Today, I'm starting with Dahlia's Behind the Scenes.
First of all, I cannot believe that this was Dahlia's debut novel. It doesn't have any of the stumbles or missteps that I've seen in other writers' first books. The editing, writing, pacing, and overall development were well done. The dialogue was written with the perfect touch of exposition and detail(which is something I'm really picky about and I tend to notice) and came off sounding realistic and natural. Additionally, the plot and character details were never bogged down with too much explaining or distracting details.
Now that I'm finished being all English teacher-y (sort of), another reason I am excited about this book is that I have zero hesitation recommending it to my students. I think many of them would find the idea of being privy to the secrets and lives of young stars entertaining. I know they'd enjoy the rapport between Ally and Van/Laim/Josh/Nate and see it as something they could relate to. Also seeing Ally struggle with figuring out how and where she fits in with the "normal" school people and the celebrities while juggling senior year responsibilities, a sick parent, working, and normal teenage angst are completely relatable (minus the celebrity thing) for many of my students. And, of course, many students can relate to the whole relationship clusterfuck thing. You know--that thing where you think certain things and don't communicate them and things get bad because people aren't mind readers and things go to shit sometimes...that thing? Yeah. I see it a bazillion times in a school year and Dahlia nailed it--I really feel that she very accurately portrayed how not only teenagers, but many adults, would react in Ally, Van, and Liam's shoes (as frustrating as it sometimes was to see it and not be ablt to do anything about it).
I'm also super excited that Van's story is next and that I have it already loaded on my Kindle!
If you're looking for a novel that is well written and researched, includes diverse main and supporting characters, is both funny and heartfelt, and ends with you feeling 100% satisfied, I am strongly suggesting that you pick up Behind the Scenes.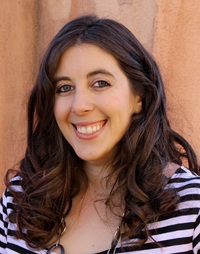 Dahlia Adler is an Associate Editor of Mathematics by day, a blogger for B&N Teens by night, and writes Contemporary YA and NA at every spare moment in between. She's the author of the Daylight Falls duology, the upcoming Just Visiting, and Last Will and Testament, as well as over five billion tweets as @MissDahlELama. She lives in New York City with her husband and their overstuffed bookshelves.
Find Dahlia: Website | Facebook | Twitter |