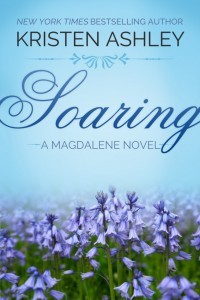 American heiress Amelia Hathaway needs to start anew.
Her husband cheated on her, and when everything she wanted in life slipped through her fingers, she fell apart. When she did, she took another heart wrenching hit as she lost the respect of her children.
When her ex took her family from California to live in the small town of Magdalene in Maine, Amelia decided it was time to sort herself out. In order to do that and win her children back, she moves to Cliff Blue, an architectural masterpiece on the rocky coast of Magdalene.
Her boxes aren't even unpacked when she meets Mickey Donovan, a man who lives across the street, a man so beautiful Amelia takes one look at Mickey and knows she wants everything from him.
The problem is, she finds out swiftly that he's friendly, he's kind, but he doesn't want everything back.
Amelia struggles to right past wrongs in her life at the same time find out who she wants to be. She also struggles with her attraction to the handsome firefighter who lives across the street.
But Amelia will face a surprise when her friendly neighbor becomes not-so-friendly. As Amelia and Mickey go head to head, Amelia must focus on winning back the hearts of her children.
She soon discovers she also must focus on winning the heart of a handsome firefighter who understands down to his soul the beautiful heiress who lives across the street is used to a life he cannot provide.
596 pages
Published March 16th 2015 by Kristen Ashley
Source: Purchased
OUR REVIEW
596 pages?
Yep.
Two days? You too! AWESOME!
Yep.
How?
Kristen freaking Ashley A-freaking-men-sistah

Shel: Dude. She's got this power over me and once I sit down to read one of her books, I have the hardest time doing anything else. For instance, I started Soaring Friday morning before work. I worked, went to the homecoming game, and did a few loads of laundry. I stayed up late to read. I got up early to read and I read every spare second I had (apologies to my students for not grading their essays and my family for the house I did not clean) because I was completely sucked in to the story of Mickey and Amy. I absolutely loved that KA made Amy this wonderfully flawed woman. She did some effed up things, owned it, and went about making repairs to all of the damage she did. I loved her. I also enjoyed Mickey--he had that wonderful strong + gentle thing going for him. He wasn't too overbearing, he owned his flaws, and he was great for Amy. I loved them together. I also loved that KA took on the hefty and delicate task of having her characters manage a relationship in which they both had children and involved exes--a truly modern day Brady Bunch blending of people going on here. This series has all of the things I've come to love about Kristen Ashley's books: great characters, funny scenes, chemistry between the main characters, and an engrossing plot and I'm excited to see that there will be a third novel in this series. Until then I have a few more KA novels to tackle, thank goodness!

Court: She did so many jacked up things. And I think that is something that our heroine hasn't had if my memory serves---and I loved that too. She had some life learning to do, and she did a bunch of it prior to our story start...but I liked the journey we were taken on...her very own road to redemption. I liked how much she and Mickey went at it, in their own alpha male/not going to be a pushover female ways, and they brought it out in each other, only to make each other better people and stronger as a couple. They fought, they made up (ooh, lala) and then they got back to the business of being strong and sassy. I loved how much they flat out owned it when they messed up...and I loved how much the kiddos in each family strengthened the plot of this book, and then basically stole the show. If there were ever kids to get a series in the world of Magdalene...it's these! I absolutely devoured this one over my Thanksgiving holiday, and I think you should read it too. The heroine is 47 (I loved this) and she's getting her groove back. I know we can all relate to that no matter what age, so have some alpha male love for Mickey while she's doing it. Girl's got it going on... I loved this book, and thank you AGAIN to Kristen Ashley for making me love it and lose sleep over it. The best I can ask for in a book, and I get it every single time from her!