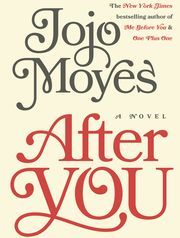 How do you move on after losing the person you loved? How do you build a life worth living?
Louisa Clark is no longer just an ordinary girl living an ordinary life. After the transformative six months spent with Will Traynor, she is struggling without him. When an extraordinary accident forces Lou to return home to her family, she can't help but feel she's right back where she started.
Her body heals, but Lou herself knows that she needs to be kick-started back to life. Which is how she ends up in a church basement with the members of the Moving On support group, who share insights, laughter, frustrations, and terrible cookies. They will also lead her to the strong, capable Sam Fielding—the paramedic, whose business is life and death, and the one man who might be able to understand her. Then a figure from Will's past appears and hijacks all her plans, propelling her into a very different future. . . .
For Lou Clark, life after Will Traynor means learning to fall in love again, with all the risks that brings. But here Jojo Moyes gives us two families, as real as our own, whose joys and sorrows will touch you deeply, and where both changes and surprises await.
After You is quintessential Jojo Moyes—a novel that will make you laugh, cry, and rejoice at being back in the world she creates. Here she does what few novelists can do—revisits beloved characters and takes them to places neither they nor we ever expected.
Kindle Edition, 384 pages
Published September 29th 2015 by Pamela Dorman Books
Source: Publisher via Netgalley
Purchase a copy:
Goodreads
|
Amazon
OUR REVIEW:
Shel: After reading Me Before You I wasn't sure if I needed this book. I really felt that Moyes left the story of Lou and Will in a way that felt true to those characters and their journey together. However. However, when presented with the opportunity to read and review this novel, how could I possibly refuse? I couldn't, so I didn't. Court: My main thought was just that I'm glad that we read them back to back. I was kicking my own butt for not getting to Me Before You sooner, but if I had known this was on the horizon it would've been agony! I was very excited to get it though.
Shel: After You was so much lighter than I anticipated and I enjoyed the way that Moyes handled the aftermath of losing Will with a nice balance of seriousness and levity. Had she weighed us down too much, I think I would've been put off. Instead, she showed us how the fog of grief can be hard to move through, but we do it anyway. She showed us how infuriatingly slow 'life moving on' can seem--when your days aren't filled with much but going through the motions. She showed us how days, weeks, months, and years can seem to not erase the bone deep grief and yet it does....I know that's sounds weird but it's true. Time does make it a little easier but that grief still lingers. So she did all of that in a way that felt right and true and yet she never made me feel like it was too much. Perhaps it was because it wasn't overly maudlin or perhaps it was the humor she injected or the new characters she introduced us to. Court: Yes, thank God that this novel seemed to me to be perfectly timed, and as a deeply grieving person...I needed it in a way that I wasn't prepared for. Little notes about memorializing someone, and then also remembering not to idolize the dead either was uplifting. They were who they were, and we get to remember that...every single bit. Will is just the type of person to remind us, and with the new characters and even old ones (her family, omigod they're so funny) we really get a whole new tale all it's own apart from the first book.


Shel: With Lily and Sam and the Moving On group, we meet new characters who distract us from Lou's sorrow and give us new problems and questions to ponder. Between their newness to Lou, the inherent drama that new people bring, and the freaking hilarious things that come out of their mouths, I found my sadness over Will ebb and my hope for happy days for Lou bloom. Add to all of this Lou's family and I had several moments when I laughed so hard I cried--my daughters had no idea what to think! Court: Haha, yes they are so funny. The humor, and especially the British humor is a huge part of the story, that even now I am still finding ways to use the slang in my everyday speech. Probably won't happen, but definitely an incentive to tell someone to "piss off" ---sounds so much better...and I liked how each of the characters evolved, and taught each other something. The characters were already well plotted, and deep, and I loved how they got as deep as the ocean with their individuality and even as a family. These people are special to me, and Jojo treated them right!
Shel: I know I said I didn't think I needed this novel, and I suppose I could've been fine with Lou's story ending in the first novel, but I'm so glad I had an opportunity to revisit her life. I've been sharing this new novel with all of my friends and family because it just felt so good and I think if you're looking for a pick me up after Me Before You, this is exactly what you need to read. Court: This is the sequel to read, because it isn't just a repeat or redundant in any way. The writing is beautiful, and the tones are lighter than "what is coming" that we may've felt in the first book. I felt it...but I felt that Lou would get there eventually, and her journey give me hope!