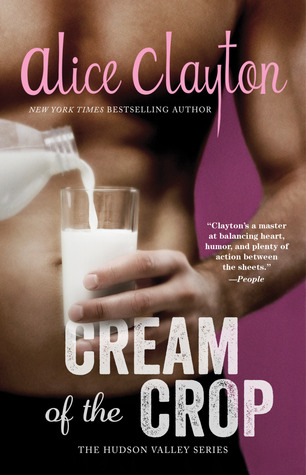 REVIEW:
I've been a huge fan of Alice Clayton's for a while now. I've followed her through her Redhead series and Wallbanger and laughed along with her on Brittany Gibbons' hangouts and even when I haven't been able to read every book that she's released, I've always cheered her on. Alice Clayton has been one of my author heroes for a while now--she's so damned funny and real and I like to imagine that if I lived anywhere close by we'd be great friends. ...but enough of this walk down memory lane, let's talk about Cream of the Crop and why it was such a good fit for me.
Natalie was such a great heroine --her confidence in her job, her looks, her friendships and family were all refreshing and uplifting. Her body positivity was exactly what I needed to read--it reminded me to love and appreciate my body, to carry myself with confidence, and just gave me that oomph that I needed. I liked that Clayton created this heroine who was wildly confident and successful and loved (this is no broken woman, y'all) and placed her in the midst of NYC--I could see her being in a 2016 version of a Sex and the City reboot. I liked how she seemed like she just owned everything around her and yet she wasn't obnoxiously arrogant--she was hilarious and kind and smart. And I especially liked two things that wouldn't have been immediately evident by looking at her--her secret stash in her kitchen cabinet and her huge crush on Oscar--that first scene with her and Oscar was so great--I was hooked. And then when she has a cause to be in her best friend's hometown, which also happened to house Oscar, and see the funny and sweet courtship that ensued all in the most gorgeous fall setting, I was not able to stop reading.
It took me a little bit longer to get into this novel, despite all of the great things I ended up loving about it, and I have to be honest about that. But once I got into it I truly found myself in this fantasy of a small town in the fall, the flutters of a new crush and the hopes of a new relationship, and all of the many other delightful things that Alice Clayton filled my head with. I normally have a mixed feeling about the fall--I love my summers off but look forward to the cool weather--and this book just made me so eager for all the fall things that are to come.
I'm new to this series but after reading Cream of the Crop, I will definitely be reading all the books in this series.
Want to know more? Read below or buy the book here: http://amzn.to/2ahwnU7
New York Times and USA TODAY bestselling author Alice Clayton brings her trademark blend of funny and sexy to this second contemporary romance in the brand-new Hudson Valley series!

Manhattan's It Girl, Natalie Grayson, has it all: she's a hot exec at a leading advertising firm, known industry-wide for her challenging and edgy campaigns. She's got a large circle of friends, a family that loves her dearly, and her dance card is always full with handsome eligible bachelors. What else could a modern gal-about-town wish for? The answer, of course, is...cheese.

Natalie's favorite part of each week is spending Saturday morning at the Union Square Farmer's Market, where she indulges her love of all things triple cream. Her favorite booth also indulges her love of all things handsome. Oscar Mendoza, owner of the Bailey Falls Creamery and purveyor of the finest artisanal cheeses the Hudson Valley has to offer, is tall, dark, mysterious, and a bit oblivious. Or so she thinks. But that doesn't stop Natalie from fantasizing about the size of his, ahem, milk can.

Romance is churning, passion is burning, and something incredible is rising to the top. Could it be...love?