I've seen many readers, bloggers, writers, and friends discuss Bad Romeo and I almost picked it up earlier this year but when I heard that there was a massive cliffhanger, I wussed out and decided to wait until the second book was closer to being released. If you haven't heard of it, here's what it's all about: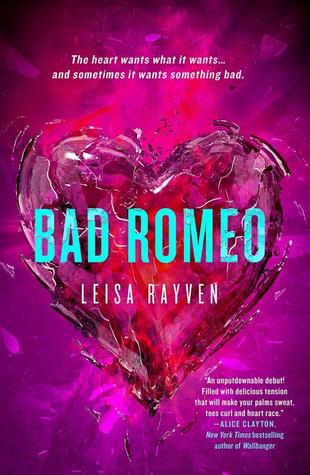 When Cassie Taylor met Ethan Holt at acting school, sparks flew. She was the good girl actress. He was the bad boy about campus. But one fated casting choice for Romeo and Juliet changed it all. Like the characters they were playing, Cassie and Ethan's romance seemed destined. Until he broke her heart and betrayed her trust. Now the A-list heartthrob is back in her life and turning her world around. One touch at a time.
Cast as romantic leads once again, they're forced to confront raw memories of the heartbreaking lows and pulse-pounding highs of their secret college affair. But they'll also discover that people who rub each other the wrong way often make the best sparks
Kindle Edition, 417 pages
Published December 23rd 2014 by St. Martin's Griffin
Source: Publisher via Netgalley
Shel: So in a series of present day scenes and flashbacks we begin to know the story of Cassie and Ethan. Notice I say BEGINNING...because just when you think you know things, the book ends. GAHHHHHH. Court: I don't think I know things! Are you crazy! Shee-it.

Shel: Anyway.

Shel: Ethan has issues. He has zero desire to be in a committed relationship and he also has a tendency to be a smidge assholish..at least the young Ethan has these tendencies. The whys and hows become evident fairly early on and while they're understandable, you just want to smack some sense into him. Cassie, on the other hand, is so honest and eager to get into Ethan's life, his pants, that she overlooks one major detail: his reluctance to be involved. I simultaneously wanted to give her fist bumps for being so open to Ethan and smack her for insisting on wanting him. You'd think that all of this angst and tension would be frustrating but I actually found most of this novel really funny. Their banter and frustrations continued to make me laugh and roll my eyes at what they were putting themselves through. Court: YES! Her teenage desperation to lose her V card was smile inducing, and absolutely lovely. This is what I live to read, and love to read...and just whoa...Ethan. Our Bad Romeo. He was so smack-worthy, but I understood him. And I understood Cassie. And their past-meets-present future...Just...whoa. I loved the dynamic of how we experience this book, the writing is spectacular, and the characters are so dynamic. I loved experiencing Romeo and Juliet the way we did with the passion of our lead characters, and that I think is difficult to do. I literally am shaking in my boots to read the next book, but oh so excited!

Shel: Don't get me wrong, there were definitely some moments of tension that had me turning the pages to see how it would all be resolved and by the end I wanted Cassie to make a freaking decision, but overall this novel was more amusing than tense. Court: She's been hurt...but, yes the angst was lower than I expected...however...not non-existent. I stressed for the surprisingly short amount of time that I took to read this, and am so excited that my passion was overflowing while reading it.

Shel: I hate to say it, but I'm so glad I waited to read this novel because now I can jump into the second book with very little lag time between the two books, yay! Court: Hahaha! I am too! Because, I would have died to wait too long!