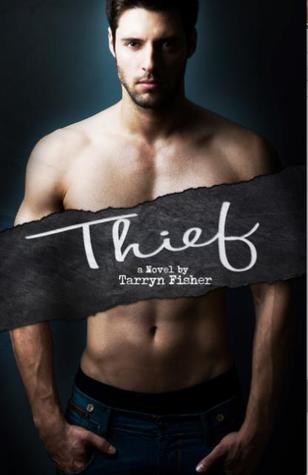 Note to Self

Love is patient; love is kind.
Love doesn't boast or brag.
There's no arrogance in love;
it's never rude, crude, or indecent-it's not self absorbed.
Love isn't easily upset.
Love doesn't tally wrongs.
Love trusts, hopes, and endures no matter what.
Love will never become obsolete.
I'll fight for her.

Thief
Caleb Drake never got over his first love. Not when he got married. Not when she got married. When life suddenly comes full circle Caleb must decide how how far he is willing to go to get the aloof and alluring Olivia Kaspen back. But for every action in life there is a consequence, and soon Caleb finds out that sometimes love comes at an unbearably high price.
BUY IT: Amazon | B&N
I'm so sad that I'm finished with this series. I lived it and breathed it and slept with it for days. I talked about it with Courtney and Jennifer and Jaime. And, I've resisted writing this review because it feels like once I write this, it's over and that means no more Tarryn Fisher books for a while. *sobs*
Going into Thief I was very curious about what the hell was going to happen with Leah, Caleb, Olivia, and Noah. With the exception of Noah, they'd all manipulated and lied so much that at some point in the series they'd all been on my shit list. I'll admit that going in to Thief I was prepared to not like Caleb and there are some things I didn't really appreciate about him like:
He kept shit going with Leah again and again even though he KNEW IT WAS A BAD IDEA. Dude, listen to your instincts, quit feeling like your guilt outweighs the right thing to do, and hold her ass accountable. Or..novel idea...walk the fuck away. Yes, she did some crazy ass shit but by humoring her and staying with her time and time again--she thought you were okay with it. And the thing is? He was intuitive enough to know all of this and yet he still let himself get sucked into her bullshit.
Quit lying. They all lied but since he was the "prize" for Leah and the soulmate of Olivia's--his lies seemed worse to me. Had he just been honest and fought for what he wanted and refused to play the games or let them play games, we wouldn't have books 2 or 3. So screw that. Don't listen to me, I liked reading books 2 and 3.
Fight for Olivia. She wanted you to and you kept walking away. FUCK. And quit hooking up with women who aren't Olivia. SHIT.
...and now I realize I'm talking as if he was a real person and not a character in a book. *smh--at myself*
Tarryn did a great job of making me like him and while also being annoyed with him. He was smug and so sure and yet sweet and loving and kind and insecure when it came to Olivia.
I loved how great he was with Estella.
I loved his jealousy of Noah and his grudging respect for him.
I loved seeing how he saw his mother and stepfather.
I appreciated his honesty, even when it showed unsavory characteristics about him. Seeing how he viewed his history and Olivia and Leah and why he did what he did definitely confirmed that he was a dick, in some instances, and that sometimes I was wrong and he actually was doing the 'right' thing...even if I hated what that was.
I'm sorry I'm giving a shitty, vague review here. I guess I just am having a hard time wrapping my brain around the end of this series--that it's over--and I'm trying to not be spoilery (failing at that). So here's what I really want you to know:
I am happy that the ending of this series felt finished and yet I'm sad that it's over. Tarryn Fisher wrote the hell out of this series--I felt the thrum of emotion--love and hate and angst and despair--underneath and between the spaces on the page. I loved the humor and anger and love and commitment and the entire rollercoaster that I was on while reading this series. It's been a while since I've felt compelled to marathon a book series like this (and had time to do it) and it confirmed for me that I am a Tarryn Fisher fan for life. Whether she's writing romance or psychological mind fucks, I am with her 100% of the way.
Thank you for writing, Tarryn Fisher.
ABOUT TARRYN FISHER:
I would like to write a novel that every, single person loves, but not even J.K. Rowling could do that. Instead, I try to write stories that pull on people's emotions. I believe that sadness is the most powerful emotion, and swirled with regret the two become a dominating force. I love villains. Three of my favorites are Mother Gothel, Gaston and the Evil Queen who all suffered from a pretty wicked case of vanity (like me). I like to make these personality types the center of my stories.
I love rain, Coke, Starbucks and sarcasm. I hate bad adjectives and the word "smolder". If you read my book-I love you. If you hate my book-I still love you, but please don't be mean to me; I'm half badass, half cry baby.
Find her: Website | Twitter | FB