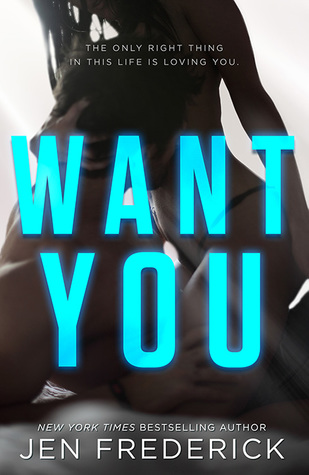 OUR REVIEW:
It's been too long since I've read a Jen Frederick novel, y'all, so when I had the opportunity to read Want You I jumped on it without even reading the blurb. That's not something I do very often, btw, but Jen Frederick always delivers so I knew I could go in blind and have a very pleasurable reading experience. Guess what?! I did. I had no idea what this novel was about and it really worked in my favor. Why? Well, to be honest, I don't think I've actually read something of this trope before (at least that I can remember) and I think not knowing helped me have an open mind, because normally I'd be a smidge weirded out, I think? But, in the case of Leka and Bitsy, I really enjoyed reading about their evolution from guardian/ward to friends to lovers. I also enjoyed the seedy underbelly that surrounds this book--I've read a lot of characters, lately, who inhabit the world in ways that feel very familiar, so being able to be in a gangster universe with Leka and, by association Bitsy, was a reprieve from the reading space I've inhabited lately. The spacing and the span of time covered felt perfect and right and by the end, I was totally satisfied with where Leka and Bitsy ended and couldn't help but wondering *hoping* that we'd get another book or two or several out of the characters we meet in the epilogue!
A little bit of a sense of a forbidden romance? Yep. Sweet and swoony romance? Yesssss. HEA? Of course. Hopeful that there's more of these characters to come? ABSOLUTELY. Grab this one and prepare yourself for a novel that you won't put down until you finish it.
Summary:
I might be only nineteen, but I know what I want. It's Leka Moore. I don't care that he took me in when he was barely more than a kid himself. I don't care that he raised me. I don't care everyone thinks being with him is wrong. I know we belong together, and the only person I need to convince is him.
Leka
I found her in the corner of a dark alley. If I hadn't taken her with me, she would've died that night—or maybe worse. Before I knew it, she became the light in my dark life, the haven from the madness. I watched her grow up. I tried to teach her right from wrong. Now that she's an adult, I'm feeling things that no good man should ever feel. But then…I've never been a good man. I have a chance at redemption by saving her from the greatest danger of all—me.
Author Links:
https://www.facebook.com/AuthorJenFrederick/